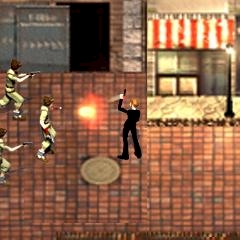 Hello, Mr. Anderson...
The Japanese cell phone industry is light-years ahead of America's, and never have I so regretted that as now: now that I have played the cell-phone spinoff to Final Fantasy VII: Before Crisis. The graphics are crystal clear, the interface is easy and the story is simple but addicting.
The demo available for playing was essentially the Japanese version of the first chapter. It takes place 6 years before the events of Final Fantasy VII, and you play a nameless new Turks recruit. The very beginning was a bit heavy on dialogue and event scenes, but once the action starts, things even out into a nice mix of both events and battle.
Even for people who couldn't understand the Japanese writing, the interface was quick and easy to pick up. Only 4 buttons on the keypad were used, one for movement, one for the menu, one for attacking and one for magic. All the controls are very responsive, and loading times are negligible.
Unlike the original Final Fantasy VII, Before Crisis's battle system is not turn-based at all. Upon running into an enemy on the world map, you warp into an open square you can move through freely. All it takes to attack your opponent is to run up to them and mash the attack button. At any time, you can mix things up by hitting the magic button to use the materia equipped to your weapon. Using the spell will pop up a cursor block of various sizes depending on the spell, and you can move it around to wherever you want. Time pauses while you cast, so you don't have to worry about guys beating you up while you figure out which spell to use. Effects are distinctly reminiscent of good effects you'd see on a NES system. Everything mixes together into a catchy and entirely too addictive little system.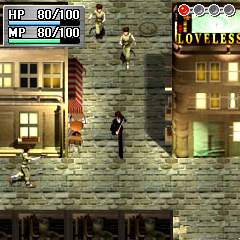 Ahhhh! Get away from me!
It is lamentable that current American cell-phones don't have the capability to handle this game. For a spin off, it's an excellent game.