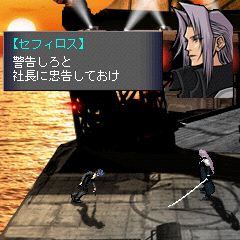 Everybody's favorite man in black.
We got our first look at Before Crisis today at E3, still in its Japanese form, stumbling across it while exploring a couple of neat phones that Square Enix had on the floor. We can't say much on the story at yet, but the graphics looked beautiful and flowed well across the small cell phone screen. The battle was real time without any separate battle screen. The controls took a bit to get used to, but after we figured it out, we learned to run from the mighty enemies.
While we couldn't read it, it was obvious that the game was very story centric with a majority of the game time spent in story sequences. Running around Midgard we ran into Rude who offered a bit of advice to our turkish avatar.