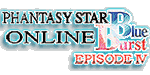 Less than a month after the first details of Phantasy Star Online: Episode IV Blue Burst were revealed, new character information has joined the fray. Four non-player characters were announced this week along with short descriptions of the roles they will play in the latest installment of Phantasy Star Online.
Karen is described as an arrogant young woman of the military. Her father, who is also in the military, is a high-ranking officer, though not much else has been revealed about him. Karen won't be seen much without her personal bodyguard, an android named Giliam. Players will first meet Karen on the quest, "Seat of the Heart."
Rupika, a Numan soldier, is the only living entity aboard the ship, the Grand Squall. Though Numan soldiers are usually retrieved from the lowest of social classes, Rupika stands out as she is the daughter of a noble. It was also revealed that Rupika has a tracking device implanted within her so she can be easily located. She makes her debut in the "Grand Squall" quest.
Next on the roster is the Hunter, Kireek, who works for an organization known as the "Black Paper." Kireek tracked and followed the Pioneer 1 to Ragol, as his long-time rival, Heathcliff Flowin, was known to be aboard. It wasn't until Kireek finally arrived at the Pioneer 1 that he learned of Heathcliff's death. Unsatisfied and yearning for the thrill of the hunt, Kireek descended to Ragol in search of new prey, but hasn't been heard from since. Kireek appears in five different quests.
Last, but not least, is a Hunter by the name of Sue. Like Kireek, Sue belongs to the "Black Paper" organization and is considered a high-ranking member of the group. Officially, Sue's mission on Ragol involves exploring the crater on the surface of the planet. Secretively, her mission is to recover certain documents, stop information leaks, and learn as much as she can about the tests that were done on live subjects aboard the Pioneer 1. Also like Kireek, Sue appears in five different quests.
Phantasy Star Online: Episode IV Blue Burst is planned to be released for the PC in Japan. It is currently unknown whether the title will make a North American appearance. No release dates have been disclosed.