| | |
| --- | --- |
| PLATFORM | PS2 |
| BATTLE SYSTEM | You get to shoot things |
| INTERACTION | You get to punch things |
| ORIGINALITY | You get to blow things up |
| STORY | You get to go places |
| MUSIC & SOUND | Do you really want to hear a mute? |
| VISUALS | They're pretty good |
| CHALLENGE | Who's hard? |
| COMPLETION TIME | Longer than you expect |

OVERALL
Guess/5

Click here for scoring definitions




It's the old wild west. That's right. People ride horses all day long, shoot things, and worry about their "salmon not swimming upstream". It was the days when a person could spit and still be considered civilized. And in this particular case, the days when mice could run in the air AND talk.
Our story follows a gunslinger named Rudy Roughnight. He decides to travel with a pony-tailed man named Jack, who happens to use a sword. As we all know, swords were common things in the wild west. They are also accompanied by a sorceress named Cecillia. Sorceress were common in the wild west too. Didn't you know that?! Cecillia is kind, are a complete airhead. Jack talks to a mouse named Hanpan, and Rudy just can't talk. So during their travels, I'd imagine that their conversations would probably go something like this: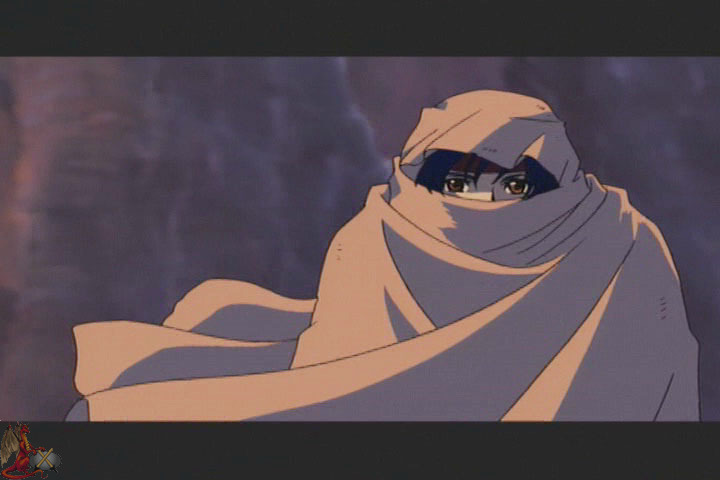 Do I look conspicuous?
Cecillia: My Rudy, what a big gun you have.
Rudy: *nod*
Cecillia: What can you do with it?
Rudy: *Shrug*
Cecillia: Ugh, Rudy! I'm trying to make a sexual innuendo's here. Your making this so difficult!
Rudy: *Stare blankly*
Jack: Hey Hanpan, who cares about those two love birds. Just look at my sword!
Hanpan: no……………
Jack: Come on buddy, I know you want to see it.
Cecillia: I don't want to see your sword. I want to see Rudy's gun.
Rudy: *stare at the sunset*
Jack: I wasn't talking to you! I was talking to Hanpan.
Hanpan: That's alright. I think it would be better if you said that to a lady anyway.
Jack: Huh? What do you mean, buddy?
Rudy: *starts to walk towards the sunset*
Cecillia: WAIT!!!!!! RUDY!!!!!!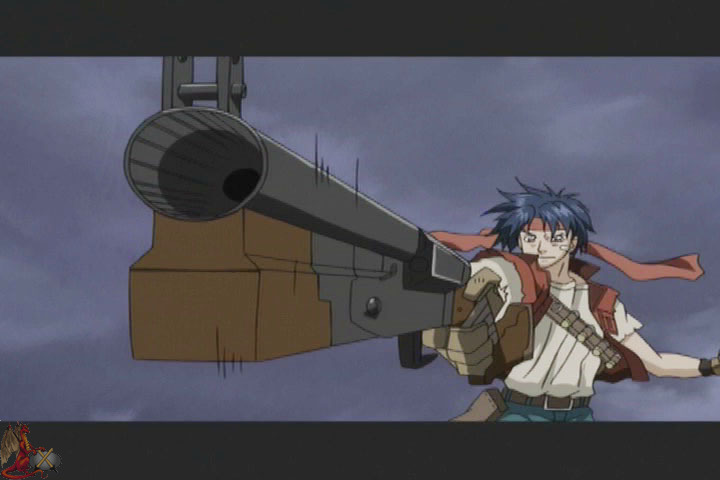 Do you want to feel it?
But………Cecillia is not the only one after Rudy. Would you believe that a giant alien swinging a ball and chain was after Rudy too? (There were aliens in the wild west. DUH! Everyone knows that.) Find that hard to believe eh? Well it's the truth. This alien was after Rudy for a different reason from Cecillia, obviously. Why would he want to make sexual innuendo's at Rudy??? I'd imagine their encounter would then lead to another epic conversation that Rudy wants nothing to do with. It would probably go something similar to this:
Alien: RuDy RoUgHnIgHt! I wIlL cRuSh YoU!!!
Cecillia: I don't think so. Rudy is far more brave, courageous, and brave than you are. Not to mention a better looker too.
Alien: StUpId WoMaN! YoU SaId BrAvE tWiCe.
Cecillia: Well, that's because he is twice as brave.
Jack: WHO THE $% CARES ABOUT HOW BRAVE RUDY IS?!?!?! LOOK AT MY SSSWWWOOOOOOORRRDDD!!!!!!
Cecillia: NNNOOO!!!
Alien: NnNnOoOoO!!!
Rudy: *shakes head no*
Hanpan: Ha ha ha ha ha. They all said no. Ha ha ha ha
Jack: Oh, shut up Hanpan.
Following this most epic of conversations, Rudy would then shoot the Alien. Jack would Whack the Alien with his sword. Cecillia would get hit by the Aliens ball and chain, and Hanpan would do absolutely nothing. Just one more day in the great wild wild west. But…
At the last possible moment, John Wayne shows up and has himself a little showdown with our mute hero. Who will win? What will happen? Where is Batman? Stay tuned to find out!
Review Archives