Happy New Year! If you're living in the West and generally ignore or are ignorant of the Chinese lunisolar calendar, then for you it is now the Year of the Rabbit. Since the Japanese synced their official calendar with Western time-keeping sometime in the Meiji Period, it's the Year of the Rabbit over here now too. The vast majority of New Year's cards (nengajo) sent in the last month have had some form of lepine imagery on them. Since I was unable to find any game-themed postcards this year, I went with the zaniest thing that I could find. Luckily, it also involved rabbits.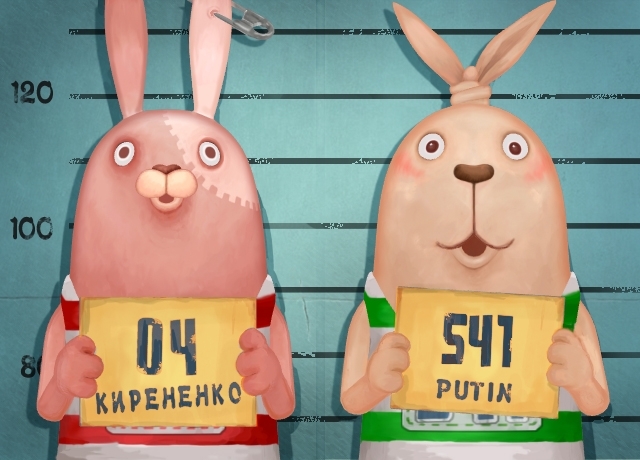 Usavich is a series of animated shorts created in 2006 originally created for the MTV Japan cell phone portal, which has gained a lot of popularity through most other forms of Japanese media. Each episode is only a minute and a half in length and shows a moment in the lives of two prisoners in the bunny-rabbit version of a Soviet gulag. Putin (inmate #541) is a conscientious little prole whose only crime was to miss a day of work due to a vodka-fueled night on the town. For that he was sentenced to three years in a cell with Kirenenko (inmate #04), a shoe-obsessed psychopath and former mafia boss. Whacky hijinks ensue as they endure life in prison (Season 1), life on the lam (Season 2), and the quest for the perfect pair of sneakers (Season 3).
But why talk about it when I could just show you?
Most episodes can be found on Youtube, though they keep getting pulled off (seemingly at random) by the site's content police. The first thirty-one episodes (up to Ep. 5 of Season 3) can be found here, if one doesn't mind frequent advertising in Japanese.
I can't wait to see what happens once Season 4 officially starts in March.