It just never ends. I don't think that a week has gone by since I started writing this column that I haven't reported on some live gaming-related event in Japan. And at most of these occasions, the public is more than welcome. When are we going to reach this stage? Check out my comments at the bottom for some interesting local news. For now, though, let's focus on those wacky Japanese and their "video game culture."
First up is some info from the most recent Osaka Game Festival, which went down this past weekend. Numerous upcoming titles were on hand for gamers to get their Pocky-covered mitts on, with Atlus' Shin Megami Tensei III: Nocturne for the PlayStation 2 stealing the limelight. This event marked the first public demonstration of the game in action, and the crowd responded very positiively. Altogether 45 titles were on display, with RPGs, like From Software's Thousand Land for the Xbox, making a good showing. Check out some images from the show below.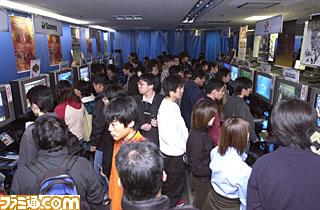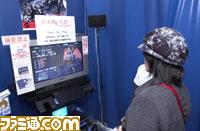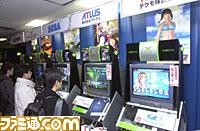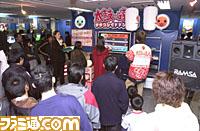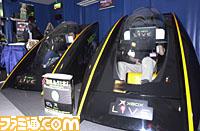 With the release of its PC RPG, Mysterious Dungeon: Shiren the Wanderer Gaiden, just around the corner, Chunsoft is readying the advertising artillery, and heading up the promotional campaign is a live event slated for launch day, Saturday, 21 December. The AsoBitCity in Akihabara will host the event, which promises three rounds of competition open to all comers. The grand prize will be awared to the player who scores the most in the three timed sessions. Those of you in the Tokyo area should head on over to the sixth floor at around 1pm for an afternoon of PC-tastic fun.
Sony has announced a preorder bonus for those who preorder Arc the Lad: Seirei no Tasogare in Japan. Gamers who sign their intent for either the regular or the deluxe edition from 20 December will receive a super-deformed figure based on one of the main characters (see below). The game itself, which was developed by SCEI, is currently penciled in for a winter 2002 release.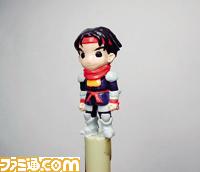 The Dengeki Console charts for the week ending 1 December have been released, and it looks like Namco's media blitzkrieg paid off. The company's latest offering, Tales of Destiny 2, took top honors, knocking both Pokémon Ruby & Sapphire down a rung (actually two). Nintendo won't be too worried, though, as both games should cross the million mark within the next week. Impressive stuff for a franchise that has ostensibly lost a lot of steam elsewhere around the globe. Also making its debut on the chart this week is Sony's Dark Chronicle, which racked up nearly 100k in sales. Check out the list below for all the notable titles.
Position; Title (Publisher), Console, Sales this week; Total Sales
1. Tales of Destiny 2 (Namco), PlayStation2, 558,763, 558,763
2. SD Gundam G Generation Neo (Banpresto), PS2, 361,837, 361,837
3. Pokémon Ruby (Nintendo), GBA, 180,255, 852,570
4. Pokémon Sapphire (Nintendo), GBA, 176,586, 877,078
6. Dark Chronicle (Sony), PS2, 98,423, 98,423
12. Super Robot Taisen Original Generation (Banpresto), GBA, 22,983, 138,992
14. Toruneko's Grand Adventure 3: Mysterious Dungeons (Enix), PS2, 17,426 468,777
17. Breath of Fire V Dragon Quarter (Capcom), PS2, 11,072, 116,234
20. Final Fantasy II (Square), PSone, 9,429, 124,870
Namco has announced details for the special edition of its other upcoming RPG, Venus & Braves. Scheduled for release on 13 February, the deluxe pacakge will contain the game's soundtrack, an art book, as well as three character figures. This keepsake will set you back a cool 9,800 &yen ($79), as oppposed to 6,800 &yen ($55) for the regular edition. Check out the nifty sale poster below (click for bigger image).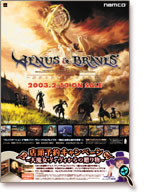 As has been reported here in the last couple weeks, Atlus is going all out with promo events for Shin Megami Tensei Nine, the Xbox debut of its long-running series. The campaign peaked on Friday, 5 December, with the official release of the offline version of the game. Character designer Kazuma Kaneko (seen below, left) and game designer Cozy Okada (below, right) swung by the AsoBitCity in Akihabara to promote their most recent creation. The folks on hand had a chance to quiz the designers about the game, and to get all their swag signed by the two as well. The release of the title does not mark the end of the campaign though, as Atlus is planning several more live events before the end of the year.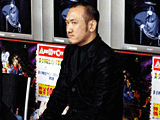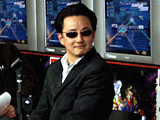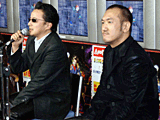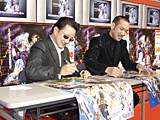 And finally, in a snippet of news for those of you (and judging by Q&A lately, there are a lot) that are interested in making your own games, Enterbrain, creator of the RPG Tsukuru series, has announced that the Game Boy Advance installment has been pushed back. The RPG creation-title will now hit Japan on 7 February, six weeks later than previously stated.
I'll take my outro space here to talk about something that I read on GameSpot just now. After much bitching in this column (and even more as internal monologues) on my part about the lack of gamer participation in video game expos, it seems that we might actually be getting just that. The Ultimate Gamers Expo is a three day, open-to-the-public (unlike E3) and non-age restricted (again, unlike E3) event that is currently on the cards for 15-17 August next year. Unfortunately, the event is going to be taking place in Los Angeles (not that I have anything against LA, but come on, they already have E3). Hopefully, this will see a significant amount of developer and publisher support, but don't count on all the big names making the trek a scant 3 months after the Big Kahuna (read E3). Still, I'm hopeful that companies will at least pay attention to it and take note of whether or not this is actually what the gaming public wants. Anyone want to offer me their couch for the weekend?
Exeunt all