Evening all. Well, another week has come and gone, bringing us closer to the excess of commercialism that is the holiday season. Not that this is all bad, mind you. There are currently literally a ton (seriously, I weighed them) of good games coming out, which is bad news for my well-worn wallet. I've been wading my way through Suikoden III, which is a lot of fun, so far. The multiple-views-of-the-same-story thing is pretty interesting, and the characters are quite likeable too. Enough jibber-jabber, let's get it on.
First up this week is an update to the awesome GameCube Legend of Zelda preorder incentive reported on previously. Earlier information had the offer extending to only the first 100,000 people that preordered, but Nintendo stated last week that the included bonus DVD, containing the full versions of Legend of Zelda: Ocarina of Time and Ura Zelda, will be available to all those who preorder. This is good news for importers that are hoping to get their claws on one of the extras discs. The campaign will run from this Thursday, November 28, with the game hitting stores on the 12th of December.
The latest Dengeki Console sales charts for Japan have been released, and RPGs feature in a big way. Topping the list is Capcom's newest release, Breath of Fire V: Dragon Quarter, which racked up a healthy 80,000+ in its first week on the market. Trailing just behind in third place is Torneko 3, which should cross the half-million mark soon. Square's NES rereleases, Final Fantasy and Final Fantasy II, crossed the 100,000 barrier as well. Check out the list below for the notable titles in the top 20.
Position; Title (Publisher), Console, Sales this week; Total Sales
1. Breath of Fire V: Dragon Quarter (Capcom), PS2, 80,059, 80,059
3. Torneko 3 (Enix), PS2, 38,125, 428,224
4. From TV Animation One Piece: Great Treasure of Nanatsu Island (Banpresto), GBA, 36,620, 36,620
9. Final Fantasy II (Square), PSone, 14,380, 104,551
10. Final Fantasy (Square), PSone, 13,547 103,074
12. Shin Megami Tensei Devil Children: Book of Dark (Atlus), GBA, 6,838, 6,838
Expect the chart to look a lot different next week. The reason: Pokémon. The Game Boy Advance debut installments, Pokémon Ruby and Pokémon Sapphire, took the island nation by storm last week when they saw release on Thursday. By the time business officially started for the day in Ikebukuro, well over a hundred people were already in line. Akihabara was, surprisingly, not as bustling, with only a handful of drooling Poké-heads on hand at opening time. Store representatives commented that they had received large numbers of preorders, which would account for the lack of lines. Still, sales were excellent, with unofficial numbers placing each of the titles in excess of 400,000 units sold.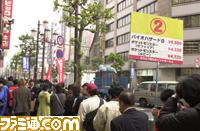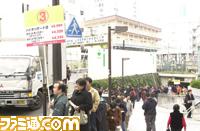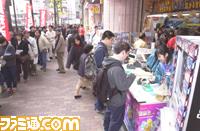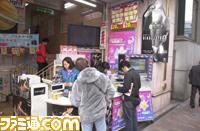 In more event news, Atlus announced this past week that they are planning launch events across Japan for Shin Megami Tensei Nine. the Xbox debut of the devillicious series. On 30 November, game designer Kazuma Kaneko will be appearing at an event dubbed "Secret Rumor systems#02 " in Sendai. Tickets for the event will run 1,500 ¥ ($12) and will be available from Seagull Club locations across the city.

Following this, on 5 December, the game's launch day, character designer Cozy Okada and Kazuma Kaneko will be on hand at the AsoBitCity in Akihabara for an interview and autograph session. This event will only be open to those who have purchased the game at AsoBitCity. Cozy Okada and Kazuma Kaneko will also be at the MEDIO game store in Okayama on 15 December for an autograph session. Apart from these events, the game itself will also be on show throughout Japan in the weeks surrounding its release, appearing as part of the Xbox Experience tour and also at the Game Show 2002 in Osaka from 7-8 December.

Square released its most recent financial results last week. During the press conference, the company divulged some info on recently released titles. In total, 3,950,000 units of software were sold over the first half of the financial year, with Kingdom Hearts racking up 580,000 sales in North America and Final Fantasy X selling a whopping 1,080,000 copies in Europe. Final Fantasy XI, too, has proven relatively successful in Japan, with 210,000 subscriber now roaming the online world of Vana D'iel. The next six months are expected to be very profitable, with anticipated titles like Unlimited SaGa, Final Fantasy Tactics Advance, and Final Fantasy X-2 gearing up for release.

In other Square news, the company recently announced an expansion disc for Final Fantasy XI, and some details have now been uncovered. Three new regions will be available: Kazam, Rikyua Desert and Yutanga Oomori Woods. New summon monsters were also unveiled, including series stalwarts Ifrit and Carbuncle. Several additional jobs will be available when the expansion is releasead, including dragon knight, samurai, fung-shui master and everyone's favorite, ninja. The company also reiterated that the original game, Final Fantasy XI will see release in North America.

The final snippet of news might be a little off topic, but it will hopefully serve as a heads-up for those that haven't ventured into a comic store in a while. This Wednesday, November 28th, Viz will be releasing the debut English installment of the manga anthology "Shonen Jump" (check out the cover image (courtesy of Animenation) below to see what to look for). Why should you care? Well, in Japan, the magazine is extremely popular, and it serves as the basis for many RPGs. The North American version will launch with several series that should be of interest to our readers, including "One Piece," "Yu-Gi-Oh!," and "Dragon Ball Z."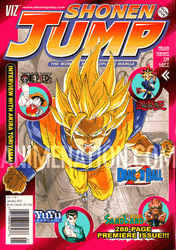 That's it for this week. I want to thank everyone that has written in to me with comments, and also make a quick request. My email provider suffered a meltdown recently, so I have not received any email for about two weeks. If you sent me something and I didn't respond, send it off my way again. To those of you in the US, try not to OD on L-tryptophan over Thanksgiving. Till next time.
Exeunt all
NOTE: Just as I was putting up the column I got word that Enix and Square are merging. Check out the story for the full skinny.