Welcome to the third issue of the RPG Elements column.
E3 2014 is over, but before I leave that show firmly in the past I wanted to share some thoughts on a pre-E3 event I attended in Santa Monica, California, The CD Projekt RED and GOG.com Summer Press Conference. During the press conference CDPR and GOG showed off a bunch new stuff including the contents of regular and Collector's editions of The Witcher 3, The GOG Galaxy client, and a Windows/Mac version of The Witcher Adventure Game board game.
If you missed it, you can watch the entire conference online by following the link below, so I won't describe in painful detail everything that transpired during the 30 minute live stream. Instead, I'll spend some time talking about some of the things I got to see and learn about in much greater detail. If you enjoy The Witcher series or DRM-Free gaming in general, this should be a fun issue.
The coolest thing I saw at the conference was a physical copy of The Witcher Adventure Game. For those unfamiliar with the board game, it is being designed by veteran designer Ignacy Trzewiczek in collaboration with Fantasy Flight Games and CD Projekt RED. It is a 2-4 player adventure game with a high emphasis on replay value. While each game may only last 1-2 hours, it should be a different experience each time you play, depending on the character you choose, the quests you decide to undertake, the alliances you forge, and the skills you choose to develop for your character. Here is how Fantasy Flight Games describes the game:
The Witcher Adventure Game takes players on a journey across the world of The Witcher, a detailed world, rich in lore and characters, fleshed out by Andrzej Sapkowski's famous series of novels, and honed by The Witcher video game trilogy.

Players assume the roles of four distinct characters from this series: Geralt of Rivia, monster slayer; Triss Merigold, cunning sorceress; Yarpen Zigrin, dwarven warrior; and Dandelion, roguish bard. Each character has unique skills and multiple ways of overcoming obstacles, but you decide what to do during the game: Do you fight your way to victory, call on your charm, or try your hand at diplomacy? You can bring enemies around to your point of view with a sword as Geralt - or bribe them with gold and threaten to call on powerful friends as Dandelion. If a situation calls for strength in numbers, Yarpen has his own fellowship of dwarves to command, and Triss can rely on her expert skill with magic to save the day.

Each character has its own deck of Development Cards, so each time you play you can discover something new by trying out varied characters and experimenting with different builds. For example, when playing as Geralt of Rivia, the main hero of the Witcher franchise, you can develop your character either by specializing in brewing and utilizing combat Elixirs, or else by growing your ability to cast powerful Witcher Signs.

A variety of quests invite players to hunt monsters, earn gold and interact with the characters they meet in a web of alliances and treachery. Decide whether you'll help the other players or look after your own interests first, and keep an eye on the progress of your friends while you carefully work your way towards victory.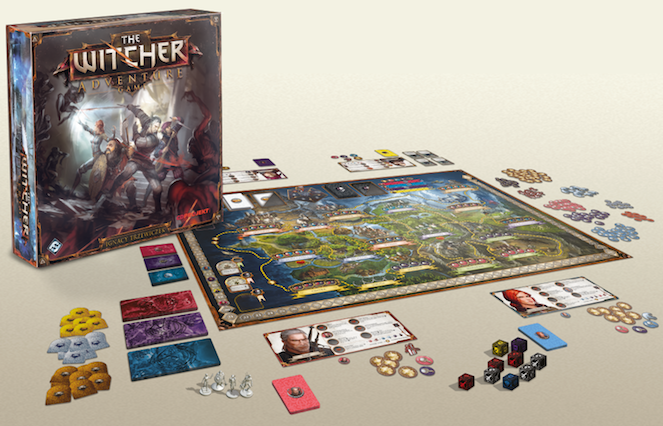 The board game was laid out on a table in the reception area before the press conference started and it was nice to get a chance to see game board up close, check out all of the cards, tokens, custom dice, and the nicely sculpted character pieces. Overall, it looks a very high quality board game with a lot of depth to dig into. The physical version of the game will retail for $59.95 and should be available later this year.
Not all of us have ready access to a group of friends for board game nights or the desire to spend $60 on a physical version. Fortunately, CDPR is also making a tablet version for iOS and Android and a PC version for Windows and Mac. These come complete with vs. AI and online multiplayer modes. The interesting thing about the PC version of the game is that online multiplayer will be handled by the new GOG Galaxy client. This will enable people who bought the game on Steam or on GOG to play across both services, whether they are on Windows or a Mac. The GOG Galaxy service and The Witcher Adventure Game should go into beta this summer and will serve to test the GOG Galaxy client, GOG Galaxy's online infrastructure, and the actual quality of the games multiplayer experience.
I very briefly got to try out the PC version of The Witcher Adventure Game at E3. While I didn't have time to get into a game or learn the rules I did get to play around with the interface a bit. I was impressed by how faithfully CDPR recreated the experience of playing a physical board game. Similar to HearthStone, the game board is set on a wooden table complete with character tokens you move across the board, dice you roll during your turn, and cards you flip over to read the effects and choose quests. The really recreated the Fantasy Flight Board game as best they could for those who don't have access to the physical game.
If you want to learn more, I have hands on pictures of the board game below. I also conducted a 20 minute audio interview for The Dialog Trees Podcast with Executive Producer Rafal Jaki about The Witcher Adventure in all its forms.
Dialog Trees Podcast: The Witcher Adventure Game Interview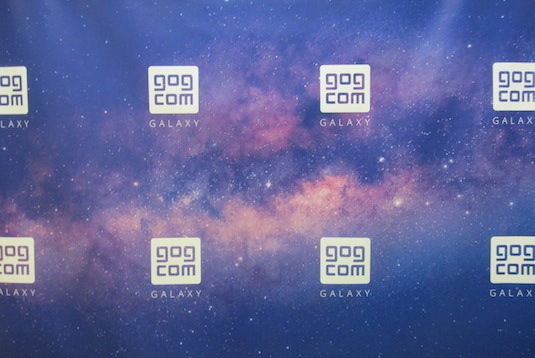 Perhaps the biggest announcement of the event was the GOG Galaxy client and service. This is GOG's big push to stay more competitive with services like Steam and The Humble Bundle Store. GOG Galaxy addresses a lot of the complaints leveled at GOG specifically and DRM-free services, like GOG and Humble Store, in general. One of the biggest complaints leveled at GOG was the lack of multiplayer enabled games on the service. Not having a multiplayer infrastructure meant that a lot of games couldn't be released on GOG, or worse, sometimes a publisher or developer would have to remove multiplayer components in order to release a DRM-free version on GOG. Galaxy's multiplayer infrastructure solves that problem and opens up a whole new class of games to the service. The best part about GOG Galaxy is that it allows for cross-platform multiplayer with Steam. For example, if I bought The Witcher Adventure Game on GOG and my friend bought it on Steam, we could still play multiplayer matches together.
One major complaint about DRM-free gaming services is that it is often difficult to keep your games up-to-date. On both GOG and The Humble Store, you have remember to log into the website and manually check if any updates have been posted to your games. You then have to either redownload the entire game or manually patch the files into your copy. It's cumbersome, to say the least. While it is great to own your games DRM-free outright, the added hassle is one reason why people prefer Steam and its easy automatic background updates.
Galaxy solves that problem, and finally brings automatic background updates to GOG's DRM-free library. For me personally, this is a huge advantage over The Humble Store, which I had switched to in the recent past as my main source for DRM-free games.
Finally, GOG Galaxy adds social hooks like chat and private message support. The best part about GOG Galaxy is that it is all completely optional. If you don't want to install the service, you don't have to, and you can always play you games offline. The only time you need to be online with GOG Galaxy is to play online, get updates, or chat.
This is a smart move by GOG that will help them stand out over the ever popular Humble Store and may even bring over a few people from Steam. The service should go into beta this summer alongside The Witcher Adventure Game beta and will be available on Windows and Mac. If you want to hear more about GOG Galaxy, I conducted an interview with Guillaume Rambourg, GOG's North American VP, for the Dialog Trees Podcast. You can also watch the announcement below.
Dialog Trees Podcast: GOG Galaxy Interview
The final cool thing I got to check out at the event was the featured item in The Witcher 3: Wild Hunt Collector's Edition, the huge Geralt fighting a Gryphon polystone statue. Each statue is hand-painted and weighs around 4 pounds. It's highly detailed and makes a nice table center piece for die-hard Witcher fans.
I took a lot of hands-on and up close photos of the statue. If it looks like something you want, don't hesitate to pre-order it. The Collector's Edition is already starting to sell out at several retailers. The Colletor's Edition will set you back $150. Check out this RPGamer article for a list of the full contents of the CE.
Witcher 3 Standard and Collector's Edition Contents





One last fun little tidbit. GOG and CDPR thought that the Press Conference was going to be held at Venice Beach, so they made a few of these custom Witcher longboards. Unfortunately, some last minute problems meant that the event had to be held in Santa Monica away from the beach, so the long boards didn't get much use. Either way I still think they looked pretty cool.


Thank you for joining me for the third edition of the RPG Elements column. E3 was crazy this year and because this event happened the weekend before, it got lost in the shuffle. It was nice to finally be able to sit and get down all of my thoughts on what CDPR and GOG had to show before and during E3.
Overall, I think they both had a great showing this year. The Witcher Adventure Game looks like a lot of fun for RPG and board game fans alike. GOG Galaxy should help bring GOG into a new era and make the service appealing to new customers. And of course there was a ton of positive buzz from the 45 minute Witcher 3 demo they showed at E3 proper. There is going to be a lot to look forward to from them in late 2014 and early 2015.
I have a lot more coming your way soon, including some cool hardware news and reviews, some cool novels and comics, and so much more.
Until next time!
Follow me on Twitter: @MerinoEm
Send me some cool news stories!