Bonjour mon amis,
A new month is upon us, as is a new issue of Currents. This week, in Canada, all the kids are enjoying a temporary hiatus from their academics due to March Break. This has made getting lunch in our city market about 70% less time consuming than the norm. How sad is it that food wait times are currently the highlight of my life? Very sad, indeed. Joking aside, great things are definitely on the horizon.
Yours truly will be headed down to PAX East later this month to cover the now sold out event for RPGamer. We've got some cool developer interviews and hands-on plays lined up, so expect a ton of righteous content when I return to the Great North. I'll also be enjoying the company of my sister's family while I'm visiting Boston, MA. Iím very excited to see my niece, Makayla, and nephew, Jaxen. As you can see, they totally take after their Uncle Trent: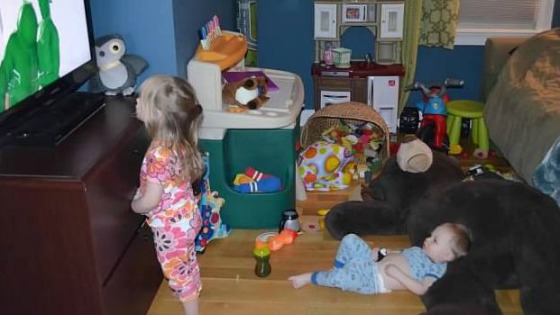 Plenty of cool topics in this issue, but we'll be starting with the drama surrounding Aliens: Colonial Marines. Several weeks out from it's initial release, the games industry is still reeling from this controversial title. Interestingly enough, the game didn't send shockwaves just because it was bad, but rather that its terribleness has prompted people to question which party involved in its development was actually responsible for it being such a catastrophe. We'll get into the nitty-gritty of the situation shortly, but for now please enjoy the most entertaining video review of Aliens: Colonial Marines I've seen yet:
Enough Xenomorph dubstep goodness. Industry coverage awaits!
Considering the extremely negative reactions of the internet community, Reddit in particular, one might assume that Gearbox Software had unwittingly initiated the apocalypse with the release of Aliens: Colonial Marines. For years, we had heard bits and pieces about this mythic, somewhat canonical Aliens title and drooled over the concept of an adept FPS developer taking a crack at an otherwise failing, but awesome franchise. There was quite a bit of well-fertilized anticipation before its release, but looking back all of the warning signs regarding its quality were there.
Aliens: Colonial Marines was first announced by Sega in 2006, aiming for a worldwide release in late 2008. Looking at my calendar today, it's clear that we're currently in 2013. This unfortunately means that we have waited seven long years for an unpolished and unoriginal shooter that seems as though it could have been a launch title for the Xbox 360. Taking a glance at the game's stereotypical characters, by-the-numbers narrative, all-too-standard FPS UIs, and follow the waypoint mechanics, it's clear that Aliens: Colonial Marines was pretty damn bereft of fresh ideas. In fact, it's so stuck in the past that it actively relies on pandering to fan expectations to get by. Thatís why James Horner's epic Aliens score returns. It's also why artist Syd Mead was on staff to flush out creature and location concepts. Unfortunately, even intelligent references to the film wear thin in a surprisingly short amount of time, and what weíre left with is a derivative turd. Worse still, a derivative turd that no one is directly taking credit for.
Nobody is entirely sure who made Aliens: Colonial Marines. Since it hit the market, we've been subject to an interesting tale of allegations, outsourcing, and claims of potential fraud. Gearbox, TimeGate, Demiurge, and Nerve Software, which were all credited as a part of the project, have since been under extreme scrutiny — creating a truly confusing and drawn out series of events. There were many details spilled and statements made, but I'll try to point out the important bits for general consumption.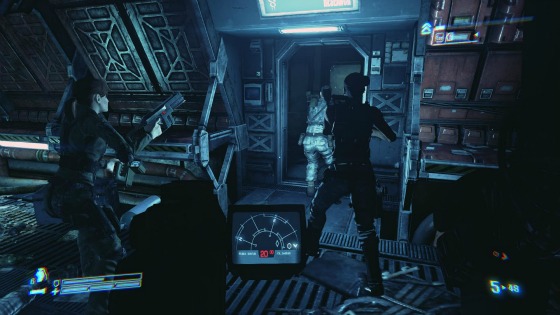 All of the drama surrounding the game actually started well before release. In 2012, an anonymous poster claiming to be a former Gearbox employee took to the TexAGs message board to reveal that the game's entire campaign had been outsourced to TimeGate Studios. This comment went largely unnoticed until the game's release. At that point, Dark Side of Gaming ran a story in which a SEGA representative was quoted flat out denying the outsourcing. According to SEGA's Matthew J. Powers, the other studios involved in the game's development simply "helped" Gearbox as it worked away on both solo campaign and multiplayer experiences. Under normal circumstances, that statement would usually be enough to end speculation. Unfortunately, the success and high quality of the Borderlands series left many journalists wondering if the same company could have really had a hand in this atrocity.
IGN scored an interview with Randy Pitchford, the head of Gearbox, right around the time the controversy broke. While this article was mostly focused on Gearbox Software's future plans and where they saw the industry moving, IGN's Andrew Goldfarb did squeeze some juicy details on the project. According to Pitchford, TimeGate helped with "probably about 20 to 25 percent of the total time." That said, he also contends that the studio was just as much a collaborator on the project if you took all of the preproduction work out of the equation. The interview also broke down contributions from other studios. The studio head noted that Demiurge helped Gearbox with networking and multiplayer options, while Nerve designed the multiplayer maps. Pitchford presented this as an attempt at trying to give consumers more bang for their bucks, instead of packaging DLC in the future. It sounded noble at the time, but something definitely stunk.
Things when from tense to awful for Gearbox shortly after an anonymous ex-Gearbox developer took to Reddit to reveal some pretty shocking things about the game's development. It's hard to validate anything that the poster said, due to the anonymous nature of Reddit and Gearbox's naturally tight lips, but much of what was posted seems too specific to fabricate. He alleges that SEGA, Gearbox, and 20th Century FOX came to an agreement to produce an Aliens game around six or seven years ago, after which SEGA almost immediately announced Aliens: Colonial Marines. The game had been in active development in the past, only to be shelved for other Gearbox projects (this point will come up again later), and each time it was resumed it would undergo a complete overall with a new creative director. Being the primary funder, SEGA wasn't incredibly pleased with the delays, but Gearbox somehow managed to continually get away with the shelving. According to the poster, the last time Aliens: Colonial Marines was unshelved, Gearbox outsourced a good portion of the game to outside companies so that most of the Gearbox developers could instead continue work on Borderlands 2. He then goes on to say that when Gearbox did shift its focus back to Aliens, they weren't pleased with its progress and had to scrap together a number of last minute fixes (addition of female marines, map redesigns, implementation of boss fights, etc.).
In a move that mirrored Silicon Knights' situation with X-Men: Destiny, Gearbox then chose to push Aliens: Colonial Marines though certification and shipping to avoid legal action from the game's publisher. It is this poster's contention that features which were initially planned were oversimplified and issues that didn't break the game were ignored, leading to a fairly buggy release. He also acknowledges the story's awfulness, but contends that it was approved by 20th Century FOX. Again, all of this information comes from an anonymous poster, but it seems fairly plausible, right?
Interestingly enough, an alleged TimeGate Studios developer then took to the internet to tear a strip off Gearbox. This individual defended TimeGate, stating that everything the studio did was under "clear and explicit direction from Gearbox." According to this poster, had it not been for Gearbox Studios' poor supervision and numerous rewrites, the campaign experience could have been much stronger.
Destructoid recently was in touch with yet another outspoken anonymous individual who was supposedly part of the development process from 2007 to 2008. This individual not only points fingers, but suggests that Gearbox outright lied to SEGA, with regards to Aliens: Colonial Marines' progress. He confirmed that Gearbox was indeed taking people off the Aliens project to put them on Borderlands instead — this was despite still collecting milestone funds as if the development team was full sized. According to this informant, SEGA actually pulled the plug in 2008 after catching wind of Gearbox shifting resources and lying to SEGA and 2K about the number of people working on each project. This was supposedly what lead to the round of layoffs that occurred at Gearbox in late 2008.
Alas, this is not where our tale ends though. The resumes of many ex-TimeGate staffers have been floating around the internet and all show a substantial amount of work on Aliens: Colonial Marines. Substantial as in "more work than any contractor would have rightfully been commissioned to do." There are multiple ex-TimeGate developers claiming credits big and small, from overseeing the UI implementation to designing entire levels and maps. These CVs not only solidify how early TimeGate was involved in development, but also completely undermine Gearbox's billing as the primary developer. Why are there so many resumes floating around the internet? In the wake of this awful release, TimeGate chose to lay off 25 developers. The company then chose to pass this off as organizational reinvention as the company transitions to next-gen development.
The final chapter of this modern drama lies with Pitchford himself. Amidst rumours of developer embezzlement and the indefinite delay of the Wii U iteration of Aliens: Colonial Marines (supposedly being developed by Demiurge Studios), the Gearbox head honcho has gone public to tell people that he doesn't like being called a liar. In fact, he doesn't like it so much that he's willing to block, ban, and report anyone who attacks his credibility. Well, Randy — I call your bluff, as I feel lied to. You went public at the demo's E3 showing to talk about many of the games amazing features, including the "next generation lighting," which never appeared in the final iteration of the game. Not only did you and Gearbox grossly mislead the gaming public regarding the quality of Aliens: Colonial Marines, but you were also dishonest in placing "Gearbox Studios" on the box cover as the game's developer. Nowhere is it indicated that Gearbox was the "project overseer" or "supervisor" and you didn't even acknowledge the actual contributions of the other three developers until the game's release period. This title is a spit in the face of Aliens fans and gamers alike, and you should feel ashamed for the shoddy work ethic implemented by your studios in its development.
Sources: TexAgs, DSO Gaming, IGN, Reddit, Destructoid
During a press event for One Piece: Pirate Warriors 2, Sony Computer Entertainment Japan president Hiroshi Kawano mentioned that sales for the PlayStation Vita have increased by a factor of four since the system's price drop. The latest numbers prior to the price change would indicate weekly sales of roughly 11,000 units, so we'll see by the end of this week whether the PS Vita actually reaches weekly highs of 44,000 units sold.
This is awesome news for the PS Vita, but it comes with a few caveats. Firstly, Nintendo doesn't have too much to worry about on the sales charts. The 3DS was miles ahead of all other systems with roughly 75,000 units sold per week — outselling the PS3 by a factor of 4:1 and the PS Vita by a staggering 7:1. If sales did quadruple as a result of the drop, it still means that Sony is falling well behind its handheld competition by a factor of 2:1. Secondly, this price drop is Japan-centric. Sony officials have made it clear that price cuts were made on a region-by-region basis, justifying this inane decision by blaming exchange rates.
Interestingly enough, even if you factor in exchange rates (and I honestly don't know who Sony has commissioned to do their economic analysis), Japan is still the cheapest place in the world to buy a PlayStation Vita. This is concerning. Many Western gamers are holding off purchase for a price drop, and there appears to be a serious lack of PS Vita software slated for 2013 and beyond. If Sony wants worldwide sales of the PS Vita to improve, they need to stop aiming for such a wide profit margin on the device and focus on releasing more games. That strategy is clearly working for Nintendo. Looking at the cost of raw materials, the PS Vita has been speculated to cost roughly $159 — a far cry from the $249 asking price. In contrast, Nintendo is currently making considerably less profit on 3DS consoles since dropping the price, but has sold many more units worldwide since.
Take the hint, Sony.
Sources: Games Industry, Examiner, iSuppli
Sony Corp. has had a tough year financially. The company has struggled to keep pace with its competitors in key areas of business, including television, gaming, and mobile phones. As a result, its cash reserves have dwindled and its stock price has plummeted by almost fifty percent in less than a year. As such, the company has sold a number of its assets to improve the look of its grisly balance sheets.
Sony Corp.'s American subsidiary is selling its New York City headquarters to a consortium led by The Chetrit Group for $1.1 billion. The sale of this 37-story building on Madison Avenue will net Sony around $770 million in cash, boosting Sony's posted operating income by a significant amount. The divisions that operate out of the building will be allowed to stay for up to three years on a leaseback agreement. Sony Corp. has also sold its Sony City Osaki office building for 111.1 billion yen (roughly $1.2 billion). The building was sold to Nippon Building Fund, Inc. and one unnamed Japanese investor, but Sony will remain in the building for five years under a new lease agreement. Finally, Sony has decided to sell off its shares in DeNA, the company that owns popular games portal and social network Mobage. The shares were purchased by Japanese company Nomura Securities, and Sony expects to gain $437 million from the sale.
To say that the sale of so many assets is making people nervous over the company's leadership and performance would be an understatement. "Sony has identified certain assets for possible sale as part of an initiative to transform its business portfolio and reorganize its assets," said the company in a statement. Whether this is actually indicative of Sony's rough financial performance or a streamlining of business initiatives has yet to be determined. I suppose time will tell.
Source: IGN
We are indeed living in the digital age. Following numerous rumours about big cuts at the video game rental giant, GameFly confirmed that they did indeed lay off roughly fifteen percent of their workforce — suggesting that they could operate more effectively in today's market with a smaller team.
"We recently made the difficult decision to restructure our organization to better align ourselves to the existing console and digital games markets," Dave Hodess, CEO of GameFly, said in a prepared statement. "We studied our business and determined that we could operate with a smaller team while continuing to provide the same high level of service to our customers."
While GameFly's balance sheets remain strong and the company is still profitable, I have a sneaking feeling that this rental organization will eventually go the way of Blockbuster and HMV. With more of our industry going digital, it's really hard to imagine a future with physical mail-order game rental services. To that end, GameFly has certainly been building up its digital PC games service during the last year, offering a wide variety of digital downloads, but with Steam, Origin, and OnLive, that is a much harder space to compete in. I hate to say it, but more layoffs are on the horizon for this company.
Source: Games Industry
It would appear that developers don't have a ton of love for console and portable gaming at the moment. Organizers of the Game Developers Conference last Thursday released the results of a GDC State of the Industry survey of more than 2,500 attendees registered for last year's show or this year's, and the results are trending towards mobile and PC gaming.
According to the survey, interest levels in the platforms are now skewed toward more open systems. When asked which new markets were the most interesting for them, more than half reported tablets, followed closely by smartphones. Steamboxes and Android-based consoles were next, garnering interest from a wide amount of respondents. As for the console manufacturers, Microsoft's next console was considered interesting to 29.5 percent of respondents, followed by the PS4 at 27.3 percent. The Wii U lagged significantly with interest from 12.6 percent of surveyed developers. Dedicated handhelds proved even less popular, with barely five percent of developers interested in releasing titles for PS Vita, and less than three percent for the 3DS.
This is only a small population of the overall developer pool, but it does serve as a tiny microcosm of industry movement. Gamers usually support platforms with the best games. If those games arenít going to be on dedicated handhelds or consoles, their time in the market might be coming to an end.
Source: GDC
Indie Devs Steal Yoshi, Donkey Kong Designs
Not one, but two Nintendo icons have been ripped off by indie developers in the past week. Era's Adventures 3D is an new action game from andev Ltd. in which you control an a small, green dinosaur who runs around a small course launching fireballs at barrels and chests in search of secret exits. Interestingly enough, that dinosaur happens to be Nintendo's Yoshi. The game's developer, Botond Kopacz, claims to have purchased the character's design from TurboSquid and supposedly had no idea that he was a popular Nintendo character as he is "not a Super Mario fan." Right. Donkey Kong's design (and even his title font) on the other hand was blatantly ripped off by developer Emoticon LCC for their iOS release Krazy Kong. Good luck with the lawsuits, boys.


38 Studios' Schilling in Hot Water
You may remember Kingdoms of Amalur: Reckoning. It was a great action RPG that unfortunately was also a commercial failure. In order to make that game and fund the studio, Curt Schilling had the operation moved to Rhode Island and was given a $75 million loan as a result. When things started to fall to pieces for 38 Studios, its leadership faced a lawsuit with Rhode Island's Economic Development Corp (EDC). This was mostly because they missed payments and withheld information on what the money would be put towards. Now Schilling wants the case thrown out on the grounds that he wasn't defrauding, so much as not being honest. Good luck to you too, Curt.


Sources: Destructoid, Games Industry
Thatís it for this issue of Currents. Hopefully, you weren't a fool like me and avoided buying Aliens: Colonial Marines. If you have and regret it, feel free to tear a strip off the game in the comments. At this point, I will ask that all prospective buyers wait for a Steam sale. It's hard to justify the purchase otherwise.
I should have some interesting news the next time you hear from me, so stay tuned RPGamers!
Your dork from the Great North,
Stalk me on Twitter: @InstaTrent
Show me some cool news stories!