He's big, he's got scary horns, and as word has it, quite the drooling problem to boot, but have pity--his daddy never gave him a name. Look below into the face of the most ferocious case of identity crisis in the history of RPGs.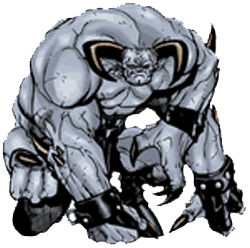 This is where you come in, as Origin Systems, creator of the upcoming massively multiplayer RPG, Ultima Online: Lord Blackthorne's Revenge, is holding a contest to see who can find a name most fitting for the four-armed demon included among the 30 monsters award-winning comic book artist Todd McFarlane designed for the game. McFarlane is best known for the popular Spawn comic book series.
The game is said to be a stand-alone expansion of the original Ultima Online that will take place in a dark world featuring all 30 of McFarlane's new characters. The central character is a transmutated, half-human version of the Lord Blackthorne who appears in previous installments. The game will also include new artificial intelligence, a new interactive storyline, and a new virtue system that responds to the decisions and behaviors that players exhibit during the game.
The winning entry will appear in the game, and the winner's name will appear in the credits. Those who are interested can go here to find out more about the contest. Ultima Online: Lord Blackthorne's Revenge is slated for a February 2002 release.