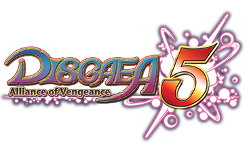 Nippon Ichi's big event for TGS 2014 was a bit bigger than usual. There was a stage. There were dignitaries and notables. There was a sizable number of foreign and Japanese press members. There was no snack bar, but hey, they can't always be perfect.
Most of all, there was just one topic of conversation: Disgaea 5. This was what had the senior vice president of Sony Computer Entertainment Japan up on stage, singing the praises of his good friend, Sohei Niikawa, president of NIS. He even went into humorous detail about the first time he visited the old NIS offices. Then Mr. Niikawa returned the compliments, discussing the long history his company has had with Sony and explaining just why the PlayStation family of consoles will always be their first pick for development platforms.



Which leads us to the game of the hour. Disgaea 5 was playable in a short demo at TGS. It's for the PS4, and more importantly only the PS4. No Xbox One, no PS3, no Vita version. There's a good reason for this, as Mr. Niikawa explains. The game is simply too big for the handheld. This includes the graphical updates, the expanded story — which at sixteen acts is far larger than anything in the series' history — and a level of processing power capable of (in theory and probably in practice) allowing for a full century of enemies to be on-screen at the same time.
That's a lot of power, right there, and Disgaea 5 seems to be all about the power. All of the storyline characters are Overlord-class demons, for example, with stats and skills to match. The developers even had to add in a whole new special class of attacks, the MaOhgi (Overskills?), which require a certain level of rage and indignation to even access. And the damage totals are high enough that even in the early screenshots one could see the kanji for 10,000 and 10,000,000 quite frequently.



Mr. Niikawa has stated that he wants this to be the quintessential Disgaea game, one that takes all the previous iterations of the series had to offer and then serves it up with even more awesomeness. If someone is new to the series, he says, he wants this game to be their first, and his company is striving to make the best impression possible. All of the major characters have stories to tell, and there's supposed to be a conversation mode outside of the scripted events that will let the player explore those stories at his or her leisure.
The twin themes of this game are revolution and revenge, and this has its reflections within the game. The Universe in Disgaea 5 is filled with conflict, as entire Underworlds fall prey to it. At least one of the Overlord characters in this game doesn't really have a home to return to anymore, which would help explain some of her rage issues. In battle, loss of comrades can trigger these feelings of anger and revenge, channeling them into stronger attacks and even enabling the MaOhgi overskills in the major characters. Damage totals will be stratospheric, most likely. Even in the demo, on the Easy map, I managed to almost break the two million damage mark (thirty thousand points short). I'm going back in tomorrow to see if I can't surpass that with some proper battle planning.



There were also some nebulous statements made about new PS4-related functions to be announced at a later time, but the more important news is that the very same demo that's sitting at TGS right now will be available for download sometime in October. Mr. Niikawa issued an open invitation to play it and send the company feedback, in the hopes of making the finished product even more enjoyable to all.
Disgaea 5 has a Japanese street date of March 26, 2015. There's no North American date yet, but judging by how animated the NIS translation guys were when talking about it after the presentation, that's no reason not to start saving your pennies for this one. It's coming over for sure.