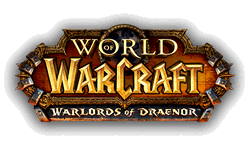 Blizzard has announced a release date for the latest expansion to its World of Warcraft MMORPG. World of Warcraft: Warlords of Draenor will be released for PC and Mac on November 13, 2014.
Digital editions of the expansion can be pre-purchased on Battle.net. Players can order the Standard Edition for $49.99/€44.99/£34.99 or the Digital Deluxe Edition for $69.99/€59.99/£49.99, which includes a Dread Raven mount and pet, Starcraft II portraits, and a Warsong Pennant for Diablo III.
Those who pre-purchase the Standard or Digital Deluxe Edition will receive a free character boost that allows them to immediately boost one character to level 90. Players will also be able to order a retail-exclusive Collector's Edition, which includes the content from the Digital Deluxe Edition as well as a full-colour hardcover art book, a behind-the-scenes Blu-ray/DVD set, a soundtrack CD, and a Warlords of Draenor mouse pad.