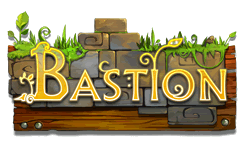 Announced and released in the same day, Bastion is now available on the iPad. While the content and story remain largely unchanged, there are a handful of new additions and tweaks to this highly regarded game.
The first tweak is the addition of a new tap based control scheme. Touch anywhere on the screen to have The Kid move to that location. Pressing and holding will have him follow your finger as well. When you double-tap The Kid performs an evasive roll in that direction. The Kid will also automatically attack any enemies or obstacles within range. You can still manually control your shield and secret skills when the need arises.
For those who would prefer to use a more traditional control scheme, there is a Classic Control scheme that emulates a controller via virtual controls. The game also features Game Center support for achievements and leaderboards.
Bastion for iPad is available now for $4.99 USD on the iTunes store and works with the iPad 2 and the 3rd generation iPad. For a full rundown of the game, be sure to checkout the Official FAQ from Supergiant Games.
Seeing as how this was RPGamer's 2011 Game of the Year, if you have still haven't tried Bastion and have an iPad, $5 is a great deal.