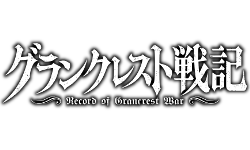 Bandai Namco has released new information and images for its upcoming title Record of Grancrest War, an adaptation of the light novel (and anime) series penned by Ryo Mizuno. The new details include introducations to various characters in the game, which is set on the continent of Atlatan, where two major powers — the Fantasia Union and the Factory Alliance — vie for dominance.
Depending on the player's choices, the events depicted in the game may diverge from or follow those in the original series, which may in turn change the fates of various characters. The game features a War Command combat mode, where players give real-time commands to up to eight units, with the UI giving indications as to the statuses of ally and enemy units. The game also features various sub-events providing extra character-based scenes not present in the animated series.





Click here to view more screenshots

In terms of the characters, the first introduced is Lassic David (though not included in the artwork below), a young lord who challenges main protagonist Theo in order to take his territory. He is one of the first characters whose fate can depend on the player. The second character is Villar Constance, another one who may have a different future to that depicted in the original series. A member of the Fantasia Union, he supposedly only takes on contracts with young female magic students and has garnered a reputation because of that. Also shown were four of the mages under contract to Villar: Margaret Odeus, Laura Hardly, Helga Piarosa, and Colleen Messala.
Three other characters were also shown. Petoru is the child of peasant farmers, but joins up with Lassic and neither shows much emotion nor fears death. Ema and Luna, meanwhile, are the twin daughters of the werewolf queen Kulala.
Record of Grancest War is set to be released in Japan on PlayStation 4 on June 14, 2018. No announcement has been made regarding a potential western release for the game, which bears no connection to the similarly-titled Record of Agarest War series developed by Compile Heart.