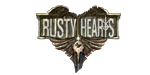 If you were still deciding whether to enter the Rusty Hearts Closed Beta key giveaway, here's more incentive.
In celebration of Rusty Hearts being showcased at Anime Expo this weekend, Perfect World is holding an exclusive Rusty Hearts Limited Prize Pack giveaway valued at $170 USD. Here's the catch: You can only enter by redeeming a closed beta key for Rusty Hearts. Players who have already redeemed their key will also be entered. This contest only runs from July 1-3, so better get those entries in.
Included in the prize pack is 1 Logitech G510 keyboard ($119.99), 1 Logitech F710 gamepad ($49.99) and 1 Limited Edition Rusty Hearts bear. The bear was seen on our E3 2011 Day 2 Wrap Up video, and they are super soft. There are three prize packs up for grabs.
Check our Closed Beta Key Giveaway page for how to enter. We're also now opening it up to email, so if you want a key but don't want a message board account you can do it that way.
For the official Rusty Hearts Prize Pack Giveaway rules, click here.