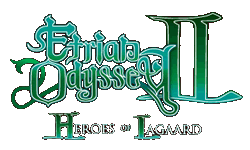 With the release of Etrian Odyssey II: Heroes of Lagaard soon approaching, Atlus has released new details on the skills of three distinct character classes. Etrian Odyssey veterans may recognize the Alchemist and Landsknecht, but an all-new Gunner profile was also unveiled.
As in the original, the Alchemist is a powerful magic-user with access to Fire, Ice and Voltage skills. Improvements come in the form of Slashing, Striking and Piercing abilities, which will sometimes attack all enemies simultaneously. The Alchemist also possesses a Return skill that makes warp pipes obsolete, and their Force Skill, entitled "Eschaton", demolishes enemy parties with sheer magical energy.
The Landsknecht returns with the same affinity for bladed weaponry, but this time both swords and axes can be employed for elemental attacks. Landsknechts still possess the ability to forgo defense for stronger attacks, and the effect will grow even stronger now should they become critically weakened by opportunistic foes. Their Force Skill, "All Out", is described by Atlus as a "powerful berserker charge that slashes every enemy."
Finally, the Gunner is a marksman class with access to several flavors of ammunition and firing skills. Taking shots from the back line, this new class may only be able to strike one enemy at a time, but they can bind and stun their target, and can even inflict elemental damage with specialized bullets. "Riot Gun" is the Gunner's Force Skill, and it allows them to concentrate on one pull of the trigger that will always stun the targeted enemy.
These three classes will join several others when Etrian Odyssey II: Heroes of Lagaard hits store shelves on June 17th for the Nintendo DS. RPGamer will offer continuing coverage of this title leading up to a full review.