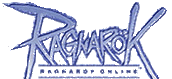 Gravity Europe, publisher and distributor of Ragnarök Online, announced yesterday that prices have been substantially reduced for the six-year-old Korean MMORPG's multiple subscription plans. The rates reported here have only been confirmed for Europe so far, and have been converted from Euros using the current exchange rate at the time of writing.
The subscription rate of a month-to-month plan has been reduced from $17.03 to $10.94, a three month recurring subscription is down from $46.40 to $28.12, and a six month recurring plan has been rolled back from $83.47 to $46.89. Oddly enough, the $19 price drop for the one-year plan, which is down to $93.77 from $112.53, is a lesser reduction than the $37 reduction on the six-month plan.
Besides dropping its rates, Gravity Europe is also giving current subscribers additional playing time at no cost, up to 70 free days depending on the subscription plan. More information on Ragnarök Online can be found on the game's official website, and by checking out RPGamer's duo of reviews.