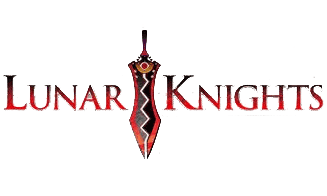 Yesterday, Konami announced a new action-RPG for the Nintendo DS from Kojima Productions titled Lunar Knights. The game relies on a day to night system that heavily influences gameplay.
Lunar Knights follows the story of two heroes, Lucian and Aaron, as they set out to vanquish the scores of undead that are plaguing their world. During the game, you'll be able to switch between the two characters at any time; however, the extent of their unique abilities is dependent on whether it is the sun or the moon that hangs in the digital sky and how brightly it's shining. Lucian, a dark swordsman, fights at his best when the digital moon is at its most luminous. As for Aaron, an apprentice marksman, the power of his dual Solar Guns is amplified by the brightness of the sun.
Both of the characters will be accompanied by a creature known as a Terrenial. Both Terrenials have their own unique skills which correspond with their partners', and can be utilized in battle. The Terrenials take advantage of the DS's touch screen and microphone capabilities, allowing the player to input commands respective to different kinds of elemental attacks. As the Terrenials grow stronger they will be capable of learning more microphone and touch-based skills.
"Kojima Productions has combined fast-paced action with groundbreaking real-time environment effects to create Lunar Knights..." said Colin Ferris, Associate Product Manager with Konami Digital Entertainment, Inc. "With its innovative day and night cycle, two playable characters and extensive touch screen support, the game takes full advantage of the Nintendo DS's unique features to deliver one of the most immersive and entertaining experiences available on any system."
Currently, Lunar Knights is slated for a Winter 2006 release. Both the release date and the title of the game, however, are still subject to change.