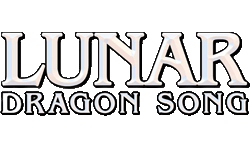 Currently titled Lunar Genesis in Japan and Lunar: Dragon Song in North America, the game is the first original handheld entrant in the Lunar series. After a period of uncertainty concerning who would develop the game, long-time Grandia series developer Game Arts has been confirmed as the developer. Utilizing the Nintendo DS touch screen for menus and maps, players can choose options and direct their characters to destinations with the tap of a finger or stylus. Furthermore, players must use their voices to escape battles by saying "Run!" into the built-in microphones of their DS systems.
The game's plot begins 1,000 years before the events of Lunar: The Silver Star, and tells the story of protagonists Gien Campbell and Lucia Collins. Gien is described as a generous and quick acting youth who serves as an inter-town transporter, or carrier, of traded items. He dreams of eventually leaving his post and becoming a dragon handler, and craves adventure and exploration. The year younger Lucia, characterized by optimism and gleefulness, is viewed by Gian as a little sister and serves as an emotional supporter and less experienced carrier.
Nintendo DS gamers lacking a role-playing fix can pick up the first original handheld Lunar as early as this Summer in North America, and August 25 in Japan. The game is approximately ninety percent complete, and is to be distributed by Marvelous Interactive.