After being delayed several months ago in order to bring the game up to their standards, Square has announced that Final Fantasy X has a solid release date. The game, originally scheduled for early spring and then pushed back to July, will be released in that month, on the 19th. Moreover, Square will release two versions of Final Fantasy X, a normal version and a limited edition, which it is speculated will include enhanced graphics and audio.
On the heels of this announcement, a slew of details on the game's supporting characters also became available in the wake of a Coca-Cola promotion and the Tokyo Game Show, which featured an impressive playable demo of Final Fantasy X. In addition to the characters Wakka, Kimari, and Lulu, revealed at the show, three other characters have now been unveiled. The first of the three is an NPC named Shimoa, who is a mage. Nothing has been revealed in terms of Shimoa's gender, but the character's stern countenance might just be foreshadowing a sinister role in the game. The other two characters revealed are both playable; Aaron is a swordsman, although little else has been revealed about his character, and Ryukku appears to be the standard Final Fantasy thief, with the 'Steal' and 'Mug' skills featuring prominently in her repertoire. Here are some pictures of the Coca-cola figures: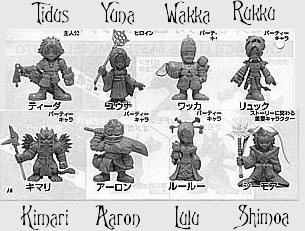 This burst of information was accompanied by Square's suggested retail prices, and fans of the series are likely going to be a little bit dismayed by how much owning the latest chapter in the Final Fantasy saga will cost. While most PlayStation2 titles sell for around 6800 yen, which translates to about $55.00 US, Final Fantasy X is set to market for a lofty 8800 yen, or $70.00 US. Just in case that wasn't pricy enough, the limited edition is set to go for a relatively astronomical 10800 yen, which comes to about $87.00 US. The special 2 DVD edition will contain a number of enhanced features, but at that price, they'll have to be awfully spectacular to justify the price tag. Final Fantasy X is set for a tentative November release in North America.