Konami has set the US release date for Suikoden 2 back to September 7th. Yes, that's right, it will go head-to-head with Final Fantasy VIII. While it could mean an early death for Suikoden 2, its also possible this move is being orchestrated by Sony in order to take advantage of the Dreamcast's initial lack of RPGs (the first Dreamcast RPGs are slated to reach the US in December.)

Also on the Konami front, new details have been revealed about Vandal Hearts 2. Vandal Hearts 2, like its predecessor will be set in a medieval world. A new "simultaneous turn-based system" allows the computer to move at the same time as the player, adding more realism to the game. Vandal Hearts features over 120 differnet weapons and armor to choose from, each with their own secret moves, and "mind-blowing" spell and specialized attack animations. Although an official release date has not been set for the US release, several sources are hinting at a late 1999/early 2000 date.

Vandal Hearts 2 Image from Konami's E3 Catalog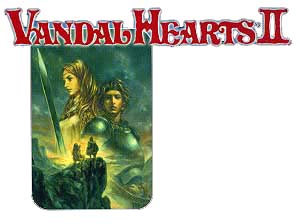 Vandal Hearts 2's Logo hints at many things.