Japanese players who pre-order Chunsoft's Toruneko's Mysterious Adventure 2 between June 25th and July 20th will receive a key chain card, featuring popular characters, including Toruneko and the slime from Dragon Quest.

Also, the first 1000 players to complete the game will be rewarded with a set of limited edition items, including a Toruneko "doll".

Toruneko's Mysterious Adventure 2 is scheduled for a September release in Japan. No news has been released on whether or not this title will come to the US, but it is unlikely.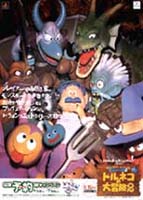 A poster featuring the cast