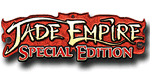 With a release date only a few weeks away, fans of the original Jade Empire for the Xbox will be able to enjoy the special edition of this popular game on their PCs. The re-release will feature high-resolution graphics and optimized controls, as well as a few exclusive extras.
Jade Empire: Special Edition allows players to follow good or evil by choosing one of two paths, "Open Palm" or "Closed Fist." Facing both human and supernatural enemies, gamers will learn an array of martial arts, magical skills, and weapon styles to battle with. With an all new difficulty to tackle, Ray Muzyka, the CEO of BioWare, had this to say about the game: "Throughout the epic storyline, players can interact with more amazing creatures and characters, and enjoy the challenge of combat through the all-new Jade Master difficulty level and improved enemy AI!" Along with the new difficulty, new enemies and fighting styles have been added.
Jade Empire: Special Edition is set to be released on February 27th in the United States, and March 2nd in Europe. Check out the Jade Empire: Special Edition page for new screens and a trailer.