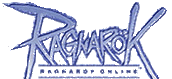 Korean developer Gravity Corporation has brought a new MMORPG to the PC - Ragnarök Online. According to RO-World.com, the game is slated for commercial release in North America next month.
Set in a time between the age of gods and the age of men, the game has been designed to support a huge amount of players. Guilds have already been set up for the game's testing phases, as players interact as a member of one of six character classes: Swordsman, Archer, Thief, Merchant, Acolyte, or Magician.
Although beta testing has been in progress since last December, RPGamers that want to preview a huge world set in an anime-style fantasy environment may still download the beta client. There are also rumors that some of the beta characters may be transferred to the full version when it comes out. As of press time, the retail price has not been announced.