LucasArts has announced the fifth playable race in its upcoming MMORPG, Star Wars Galaxies. Remember the leader of the rebel fleet in Return of the Jedi? Now the Mon Calamari, the fishlike humanoids, have joined the roster of playable races. Mon Calamari are bipedal and amphibious, with large eyes. Their skin coloration can range from salmon pink to pale blue. As one of the most intelligent races in Star Wars Galaxies, the Mon Calamari race has extremely evolved technology, most notably the Mon Cal starships.
The species is peaceful as a general rule, and as they are amphibious, they are able to survive underwater for extended periods of time. Their home planet, which also bears the name Mon Calamari, is a very watery planet, and so they are accustomed to the long underwater journeys they will be able to make in the game. Interestingly, although Mon Calamari characters are usually associated with the Rebel Alliance, they will not be limited to that allegiance in the game. Here is concept art of the new species, courtesy of Sony Station: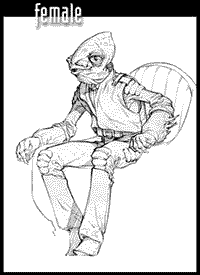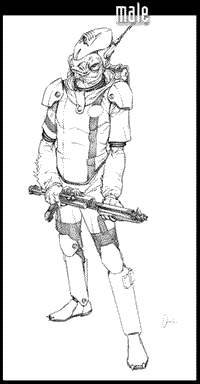 Star Wars Galaxies is currently slated for a release in 2002. There are three playable races that have yet to be revealed.