The Macworld Conference and Expo took place in San Francisco this past week, giving Macintosh users a look at the year's coming hardware and software. Graphsim, who is publishing Summoner for the Macintosh, had their booth set up at the show, and had on display a fully functioning version of the title. Although still in development, the game contained all the high-quality models and textures seen on the PlayStation2, as well as the spectacular visual effects that accompany the characters' summoning spells. Running on a PowerMac G4, the game kept up at a smooth 60 frames per second, a noticeable improvement over the console's capabilities.
While computer hardware will certainly affect how the game looks and runs, the major factor which will distinguish the Mac and PC versions of Summoner from their PlayStation2 counterpart will of course be multiplayer gameplay, which is nearing completion. As well, a Graphsim representative present at the expo stated that "the PlayStation2 Summoner does have some problems, and part of porting it to the Mac was to get rid of those nasty bugs." Graphsim and THQ (publisher of the PC version) have both worked carefully with Volition in examining reactions and feedback from the console release of the game. Based on that information, they have been able to make improvements and adjustments for the computer platforms.
The Mac and PC versions of Summoner are still scheduled for release in the first quarter of this year, and will ship simultaneously. Graphsim indicated that fans should expect the title to appear in stores by late March. Images from Graphsim's booth at the Macworld Expo are available below.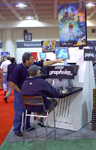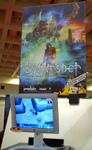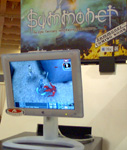 Summoner, presented by Graphsim at the 2001 San Francisco Macworld Expo