| | | |
| --- | --- | --- |
| | Shadow Hearts: Covenant - Review | |

History Vs. The Supernatural
By Jake Alley
---
Review Breakdown
Battle System
5
Interaction
5
Originality
3
Story
4
Music & Sound
5
Visuals
5
Challenge
Medium
Completion Time
30-50 hours
Overall



Monsters Abound
In the year 2000, a team composed of former Square employees released a quirky, horror themed RPG by the name of Koudelka. While it failed to garner much attention, it was followed a year later with a more mainstream sequel entitled Shadow Hearts. Now a third game has been added to the series in the form of Shadow Hearts: Covenant.
The most notable feature of Covenant is, ironically enough, how traditional of an RPG it is. While most RPGs in recent years have felt the need to experiment with elements from other genres, complex systems of experience, and other ways of reinventing the wheel, Shadow Hearts: Covenant is quite well grounded in the foundations of the RPG genre.
The only real experimentation Covenant performs is in the battle system. To begin with, we have a continuation of the Judgement Ring system introduced in Shadow Hearts. When performing nearly any action in the game, an indicator spins around large wheel of colored wedges. Hitting a button as it passes each wedge makes the action successful, with a special bonus gained if a wedge is hit right at the edge. This livens up combat and allows for the dexterous RPGamer to do extra damage, without being too difficult for those with slower reflexes. New to Covenant is the ability to customize the Judgement Ring for each character in a wide variety of ways. Items can increase the sizes of hit areas as the player chooses, or add more potential hits when attacking. Additionally, each character's ring can be handicapped in a variety of ways if the player finds one too difficult to use.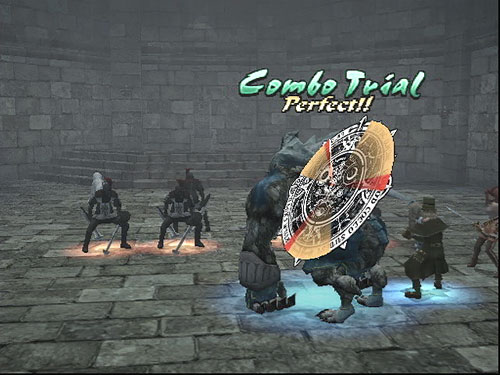 The Judgement Ring
Added to this is the ability to chain together the attacks and spells of characters into combos that do extra damage and earn bigger rewards at the end of battle, not unlike Valkyrie Profile, and equipable items allowing characters to cast an ever growing number of spells. Additionally, solving special puzzles involving these spell-granting items doubles the number of spells each grants. Finally, each character has their own personal set of special abilities, amassed in a different way for each character, ranging from hunting down special items, to engaging in one-on-one duels.
While the gameplay of Covenant may be well grounded, the plot is anything but. Technically, the game stays in line with the rest of the series, focused on battle with supernatural forces in Europe and Asia around the turn of the century, occasionally touching on actual historical events, and even maintaining the previous game's central character. This time out however, the tone is quite silly. Whether it's a kleptomaniacal vampire with delusions of being a superhero, or battling a gigantic cute fluffy kitten, there's almost always something to inject some laughs into what would otherwise resemble a horror themed game.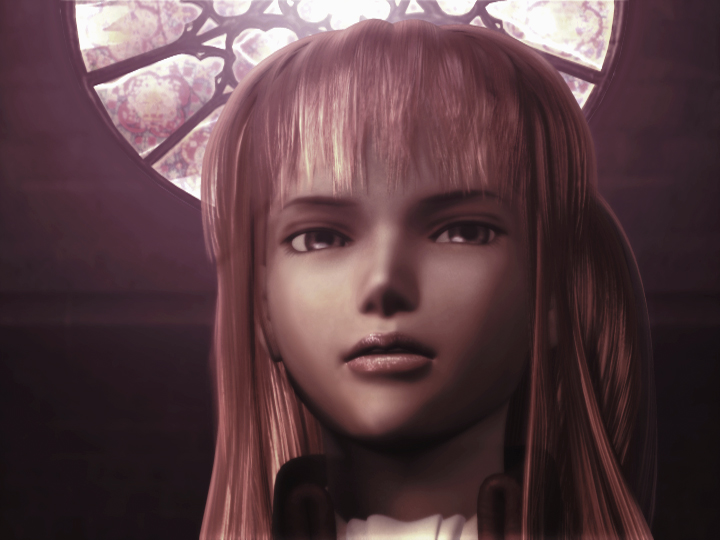 Nice attention to detail.
Visually, the game offers something of a stark contrast. While backgrounds and unimportant characters are depicted in a drab, historically accurate fashion, anyone important is depicted in a flamboyant comic book style, sticking out like sore thumbs from the average person, not that this isn't appropriate to their personalities. Technically speaking however, there's no room for complaint. There is a great deal of detail to be found everywhere, from free-swinging belt straps to expressive eyes in the many fully voice acted cutscenes.
On the subject of voice acting, this outing provides a far better quality of voice work than was found in Shadow Hearts. Sound effects are similarly detailed, with footsteps echoing differently as different surfaces are crossed. All well complemented by a soundtrack which maintains a unique style and many catchy tunes despite the loss of big name contributor Yasunori Mitsuda.
Overall, Shadow Hearts: Covenant is one of the best choices out there for those looking for a straight-up RPG, particularly for those looking for a game with a warped sense of humor and a lively system of combat.