| | | |
| --- | --- | --- |
| 1. | | Loop Demo |
| 2. | | FINAL FANTASY ~FFXII Version~ |
| 3. | | Opening Movie (Theme of FINAL FANTASY XII) |
| 4. | | Infiltration |
| 5. | | Boss Battle |
| 6. | | Auditory Hallucination |
| 7. | | Secret Practice |
| 8. | | A Small Happiness |
| 9. | | The Royal City of Rabanastre / City Ward Upper Level |
| 10. | | Penelo's Theme |
| 11. | | The Dream to be a Sky Pirate |
| 12. | | Little Rascal |
| 13. | | The Dalmasca Eastersand |
| 14. | | Level Up! |
| 15. | | Naivety |
| 16. | | Coexistence (Imperial Version) |
| 17. | | Signs of Change |
| 18. | | Mission Start |
| 19. | | Rabanastre Downtown |
| 20. | | Mission Failed |
| 21. | | Quiet Determination |
| 22. | | The Dalmasca Westersand |
| 23. | | Clan Headquarters |
| 24. | | A Small Bargain |
| 25. | | Giza Plains |
| 26. | | Parting with Penelo |
| 27. | | The Garamsythe Waterway |
| 28. | | An Omen |
| 29. | | Rebellion |
| 30. | | Nalbina Fortress Town Ward |
| | | |
| --- | --- | --- |
| 1. | | The Princess' Vision |
| 2. | | Clash of Swords |
| 3. | | Victory Fanfare ~FFXII Version~ |
| 4. | | Abyss |
| 5. | | Dark Clouds (Imperial Version) |
| 6. | | A Promise with Balflear |
| 7. | | Game Over |
| 8. | | Nalbina Fortress Underground Prison |
| 9. | | The Barbarians |
| 10. | | Battle Drum |
| 11. | | Theme of the Empire |
| 12. | | Chocobo FFXII Arrange Ver.1 |
| 13. | | The Barheim Passage |
| 14. | | Sorrow (Liberation Army Version) |
| 15. | | Basch's Reminiscence |
| 16. | | Coexistence (Liberation Army Version) |
| 17. | | The Skycity of Bhujerba |
| 18. | | Secret of Nethicite |
| 19. | | Dark Night (Imperial Version) |
| 20. | | A Speechless Battle |
| 21. | | The Dreadnought Leviathan Bridge |
| 22. | | Challenging the Empire |
| 23. | | State of Emergency |
| 24. | | Upheaval (Imperial Version) |
| 25. | | The Tomb of Raithwall |
| | | |
| --- | --- | --- |
| 1. | | The Sandsea |
| 2. | | Esper Battle |
| 3. | | Sorrow (Imperial Version) |
| 4. | | Seeking Power |
| 5. | | Deseperate Fight |
| 6. | | Jahara, Land of the Garif |
| 7. | | Ozmone Plain |
| 8. | | The Golmore Jungle |
| 9. | | Eruyt Village |
| 10. | | You're Really a Child... |
| 11. | | Chocobo ~FFXII Version~ |
| 12. | | An Imminent Threat |
| 13. | | Clash on the Big Bridge ~FFXII Version~ |
| 14. | | Abandoning Power |
| 15. | | The Stillshrine of Miriam |
| 16. | | Time for a Rest |
| 17. | | White Room |
| 18. | | The Salikawood |
| 19. | | The Phon Coast |
| 20. | | Destiny |
| 21. | | The Sochen Cave Palace |
| 22. | | A Moment's Rest |
| 23. | | Near the Water |
| 24. | | The Mosphoran Highwaste |
| | | |
| --- | --- | --- |
| 1. | | The Cerobi Steppe |
| 2. | | Esper |
| 3. | | The Port of Balfonheim |
| 4. | | Nap |
| 5. | | The Zertinan Caverns |
| 6. | | A Land of Memories |
| 7. | | The Forgotten Capital |
| 8. | | The Feywood |
| 9. | | Ashe's Theme |
| 10. | | Giruvegan's Mystery |
| 11. | | To the Place of the Gods |
| 12. | | The Beginning of the End |
| 13. | | To the Peak |
| 14. | | The Sky Fortress Bahamut |
| 15. | | Shaking Bahamut |
| 16. | | The Battle for Freedom |
| 17. | | The End of the Battle |
| 18. | | Ending Movie |
| 19. | | Kiss Me Good-Bye -featured in FINAL FANTASY XII- |
| 20. | | Symphonic Poem "Hope" ~FINAL FANTASY XII PV ver.~ |
| 21. | | Theme of FINAL FANTASY XII (Presentation Version) |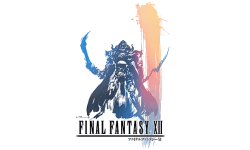 Hitoshi Sakimoto - Main

Hayato Matsuo

Masaharu Iwata

Nobuo Uematsu

Tarô Hakase

Yuji Toriyama
Hitoshi Sakimoto - Main

Hayato Matsuo

Kenichiro Fukui

Yuji Toriyama

Robin Smith
With the Final Fantasy XII OST, the musical reigns of Square Enix's flagship series have been handed over from Nobuo Uematsu to Hitoshi Sakimoto. For some, this change is a welcome one, for others a disappointment. While Sakimoto takes the lead on this work, he is joined by Hayato Matsuo, Masaharu Iwata, and to a lesser extent Nobuo Uematsu, Tarô Hakase, and Yuji Toriyama. Uematsu is not completely out of the picture as he composed the main vocal theme of Final Fantasy XII, "Kiss Me Good-Bye."
Final Fantasy XII's 100 track offering is one of the grandest of the series. Many of the tracks sound as if they have come straight out of a movie score, not a video game soundtrack. Sakimoto's style is larger than life throughout most of the soundtrack, and it comes together quite well. One minor problem seems to be with the lack of many standout tracks. While most all of the pieces are pleasant, few seem to reach out and grab the listener. Also the fact that there is no recurring theme to tie things together is a minor downfall. Every piece stands on its own, and while this is not completely a bad thing, the soundtrack does lack a cohesive structure.
Though this soundtrack is mainly Sakimoto's work, he does give quite a few nods to Uematsu and his earlier Final Fantasy pieces. Sakimoto has composed his own variation of the main theme titled "Final Fantasy." This piece is grand and flowing, especially compared to the original style of the piece. Other newly composed tracks are "Chocobo" and "Clash of the Big Bridge." While "Chocobo" is decent and well paced, it is "Clash on the Big Bridge" that truly stands out. This piece was originally an impressive track on the Final Fantasy V soundtrack; on this soundtrack it shines as well, being one of the most memorable.
The quality of the soundtrack is not limited to just new compositions of Uematsu's music. Sakimoto has created quite a few unique pieces of his own. "Clash of Swords" is impressive. It's a very moving, intense piece with an original feel. Some other decent tracks are the mysterious "The Sandsea" and the fast-paced "The Phon Coast." While these tracks are good musically, they are easily forgettable, especially outside of the game. The soundtrack is a bit short on slower tracks, with the song "Kiss Me Good-Bye" standing out as one of the only emotional tracks. Hayato Matsuo, Masaharu Iwata, Tarô Hakase, and Yuji Toriyama all add a little something to the soundtrack, but the only track of note is "Symphonic Poem 'Hope'." This was featured in both the Japanese and North American game trailer and is quite enjoyable.
Final Fantasy XII's soundtrack is quite good, but is better when listened to within the context of the game or as a whole, since so few tracks shine above the rest. Overall, Sakimoto's first attempt at composing and arranging a main series Final Fantasy soundtrack has been a success. It may not be the most memorable work out there, but it comes together as a solid soundtrack. It is one that is worthy of the Final Fantasy name.
| | |
| --- | --- |
| Musicianship | |
| Sound Quality | |
| Production Value | |

OVERALL

4.0/5