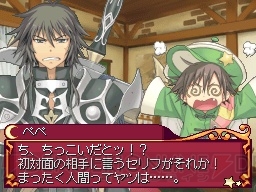 This is a frequent Pepe reaction.
Atelier Annie: Alchemist of Sera Island is a game I've had my eye on prior to Michael Baker's import impression. I adore games that ooze charm, humour and personality, which is why I love games like Magical Starsign. They are games that don't have to be deep in gameplay or story, they just have to offer enough character to make them distinctively their own. Atelier Annie easily is one of those games.
Annie is one of those characters that's so easy to fall in love with. She's someone who wants to take the easy road in life and is instead thrown a curve ball that she can't seem to quite get out of. When Annie is forced to take on the task of becoming an alchemist, she isn't exactly thrilled at the prospect. However, when she starts to understand the perks of bringing tourism to Sera Island through a contest, she becomes more determined to succeed because the prize is the possibility of becoming closer to the prince of Sera Island. Annie is a gold-digger through and through, and the thought of a pampered lifestyle is the only thing she's ever dreamed about.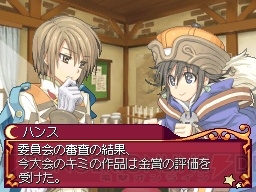 Annie's gold-digging face is also quite common.
As the story progressed, I was presented with two companions. One was Pepe, a sarcastic fairy who believes that Annie is a lazy freeloader without any sense of motivation to better herself. The second is Hans, a gentleman who helps Annie with the contest and acts as an assistant by providing knowledge of the area, quests she can take on, and of course, helping her expand her atelier.
One thing that is a huge trait in the Atelier series is the alchemy system. Annie must collect various items and recipes from different areas in order to create different objects that will help benefit her and the town. There are also two types of synthesis, a normal type which requires having a recipe to create objects, and a special type which allows the player to assign traits to the items that you create. For example, if you assign the word "big" to a bomb, the object becomes a "big bomb". These traits allow the player to create some rare and even unique items to help Annie in her quests.
The first assignment Hans provides Annie with is creating a sign for her Atelier. Fortunately, he provides the player with all the items necessary to create the sign, while also providing a helpful tutorial on how to synthesize items. Unfortunately, after I had forged my sign and put it up to show I was in business, I had to put the game down because my time was up. Despite the short time I spent with Atelier Annie, I can easily say that this game has plenty personality and a wicked streak of humour that may appeal to any RPGamer who loves games that don't really take themselves too seriously. I absolutely cannot wait to get my hands on this game and have the chance to build more of my resort and, of course, win over my sweet prince charming, so that I may never have to work another day in my life again.