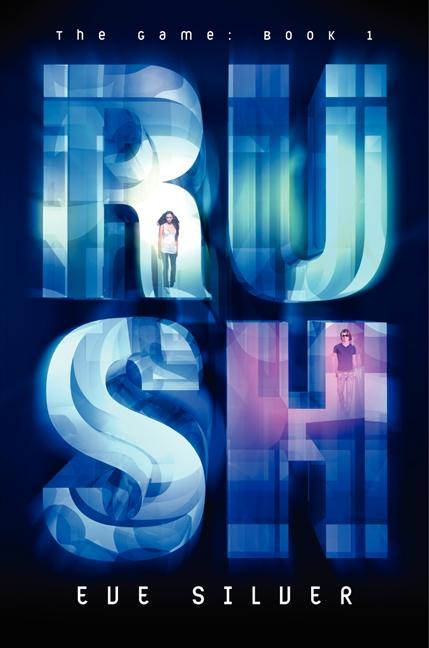 Very seldom here at RPGamer do we venture into other forms of media related to RPG culture. For a change of pace, we have for your pleasure an interview with someone who is not a gamer herself, but is a mother and wife of RPGamers. At this year's FanExpo, I had the chance to chat with Eve Silver, author of RUSH, about her video game inspired novel. The story is about a young girl forced to play a game that will end her life in the real world if she fails at completing the missions assigned to her and her teammates. It's a story about friendship, survival, and of course, gaming.
How might this appeal to RPGamers you ask? Simple. Eve Silver has written a novel that borrows from the world of RPGs, MMOs and first-person shooters to weave together a narrative that is rich in each culture. Tabletop and video games, especially Dungeon & Dragons, The Elder Scrolls: Skyrim and Call of Duty, play heavily as influences for RUSH, and Silver shows the reader that she's certainly done her homework.
Reading RUSH, I could sense how strong the influence of games is in the book. Miki Jones is a strong protagonist who is quick, clever and sassy. While her teammates never give her the full details as to the rules of the game or how the world works, Miki is forced to take a lot of situations into her own hands and figure out the world around her. She knows the Drau can destroy her with a mere glance, yet she attempts to find ways to control herself in a situation where control is in the hands of a hidden force. There's a lot to love in the story: the quick pace of the narrative and the interesting world-building. RUSH felt like a book where I couldn't stop turning the pages because I needed to know what was going to happen next.
I had the chance to interview Eve Silver at FanExpo 2013, wherein we discussed influences, world-building, characters, and games.
Check here to Listen to the Audio Interview
---
RUSH SIGNED HARDCOVER GIVEAWAY
For those who took the time to listen to our Audio Interview, we also have a giveaway. One lucky winner will receive a signed hardcover of RUSH. This giveaway is for Canada and the US ONLY. All you have to do is e-mail us with what gives you the biggest rush! This could be in the form of an anecdote or a one-liner. An example of what we are looking for is: "The biggest rush I ever felt was when I hit my first homerun playing baseball." Keep in mind these "rushes" can be or not be game related. E-mail contest@rpgamer.com by September 3, 2013 with your name, address, and "rush" (limit one entry per person) and you'll be eligible to win!
RUSH was published on June 11, 2013 by Katherine Tegen Books, and the sequel PUSH is set to release sometime in 2014. You can chat with Eve Silver via Facebook, Twitter, and her official website. Eve has also graciously provided us with an excerpt from RUSH, which can be read below.

---
SYNOPSIS: When Miki Jones is pulled from her life, pulled through time and space into some kind of game—her carefully controlled life spirals into chaos. In the game, she and a team of other teens are sent on missions to eliminate the Drau, terrifying and beautiful alien creatures. There are no practice runs, no training, and no way out. Miki has only the guidance of secretive but maddeningly attractive team leader Jackson Tate, who says the game isn't really a game, that what Miki and her new teammates do now determines their survival, and the survival of every other person on this planet. She laughs. He doesn't. And then the game takes a deadly and terrifying turn.
EXCERPT:
There's a flash of light, blindingly bright. Colored haloes obscure my vision. They dance and flicker and then disappear, leaving only a rectangle of light boxed in by the dark doorframe.
I see then that the door's gone and in front of me are people. No…they aren't people. They have limbs, hair, faces, but they aren't human. After the first glance, they don't look even remotely human. They're pure, painful white, so bright they throw off a glare. They look like they've been dipped in glass, smooth and polished, but fluid. And their eyes…they're a silvery color, like the mercury in the antique thermometer that my mom used to have at the side of the front porch.
When I was ten, I knocked that thermometer off with my wooden kendo sword, shattering the glass. The little blobs of mercury went all over the porch. I was a kid. I didn't know better. I touched them, prodding the little balls until they joined the bigger blob. My mom swooped down on me and snatched me away, telling me it was poison. It could kill me.
I stare at the things in front of me: the Drau. I can't look away.
Somewhere in the back of my mind, I remember Jackson talking about Medusa. Don't look at their eyes.
Their mercury eyes.
They're poison.
They will kill me.
Copyright © 2013. Eve Silver. All Rights Reserved.
---
About the Author: Eve Silver lives with her gamer husband and sons, sometimes in Canada, but often in worlds she dreams up. She loves kayaking and sunshine, dogs and desserts, and books, lots and lots of books. Watch for the first book in Eve's new teen series, THE GAME: RUSH, coming from Katherine Tegen Books, June 2013. She also writes books for adults.