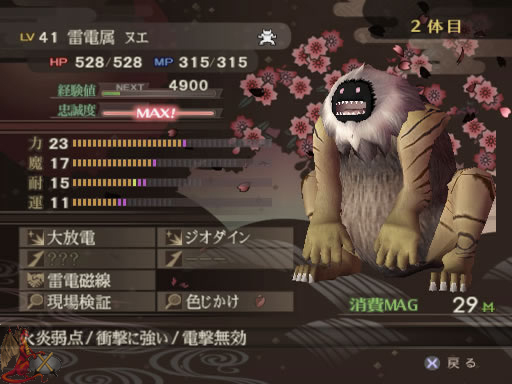 Flowers and demons.
Disliking Nocturne but loving both Digital Devil Saga games, I approached Shin Megami Tensei: Devil Summoner with mixed anticipation and dread, not entirely sure whether I would like the game or walk away disappointed. The demo I got to play was actually the same one that was shown at the Tokyo Game Show when the title was initially announced, despite the fact that the full game is out in Japan. There wasn't an English translation, but a card with helpful directions was posted with the game, that helped me get started.
I first tried out the boss scenario, which was the harder of the two options open to me. An ugly eye with a dozen or more tentacles was on a rampage, and would call up undead allies to fight with him. I could easily dispatch the summoned devils but the boss was another story. Rather than standing in a line as allies did in Digital Devil Saga, the hero and his Devil can run freely around the battlefield, delivering and dodging attacks. As it turns out, bosses are pretty much immune to regular attacks. Instead, a summoned Devil on the side of the hero can use an element that the boss is weak to and stun the enemy. Once they are stunned, the hero can then move in for the kill. Naturally, I pulled out Jack Frost and started wailing on the bad guy, but unfortunately he wailed on me a little more than my character could handle and I died.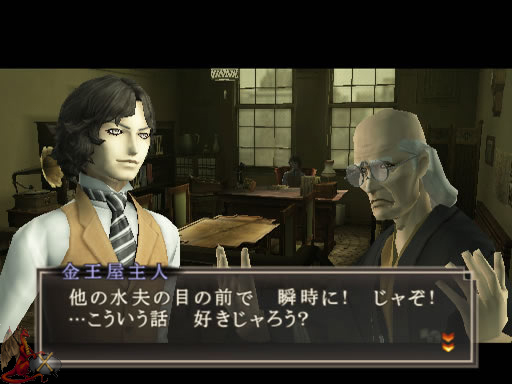 Famous for eye make-up.
I then moved onto the story scenario; while the game was still in Japanese, I could make a little sense of what was going on. I could move freely up and down the street, though I could not chat with random people. I occasionally got into a random battle but these enemies were quickly dispatched. Running back and forth, I eventually ran into the point where I couldn't move any further and sadly put down the controller, but the experience definitely excites me enough to want to take a look at the game once it's in English, an event which many RPGamers should be looking forward to.