A brisk stroll through town
.hack//GU is a continuation of the .hack saga. Once more has The World been rebuilt and mysterious happenings are plaguing its players. The main character is someone who has a friend who has fallen into a coma due to being killed in The World.
I got to play through one dungeon area, but it was not a dungeon area in the sense of the previous .hack games. It was open-air with a series of islands connected by bridges. The object was to defeat all of the instanced enemies and thus open up the final chest. Unlike previous .hack games, the encounters are instanced and limited by an energy barrier so that it is impossible to run away. To somewhat counter-balance this, the main character is able to ride about on a bike and if he manages to come up on the enemies unaware, then an advantage will be gained.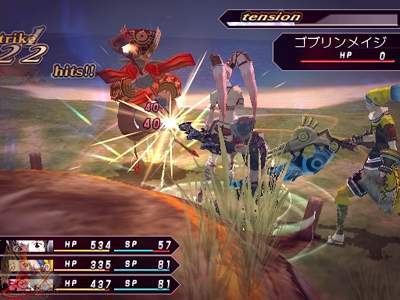 Melee madness.
The action was as fast and frantic as the first series; however, suggestions will pop up on screen ("press x repeatedly" or "hit L2 for a combo") that allows for a more managed approach to battle. The party consists of three characters, and once again your other party members are controlled by AI. The demo was too short to evaluate this feature properly, but they held their own for the demo. The main character can equip different weapons which will result in different available skills. The party also has a morale bar that is built up and activating a full bar will result in a period of double damage and increased speed.
.hack//GU does retain the distinctive visual feel of the previous games, and veterans will likely find it much similar, especially in the BBS/email style of exploring outside the world. This is meant to be the first game in a new trilogy, and while there was no official word on whether or not an anime will be released with the game, a representative noted that they were working on it.