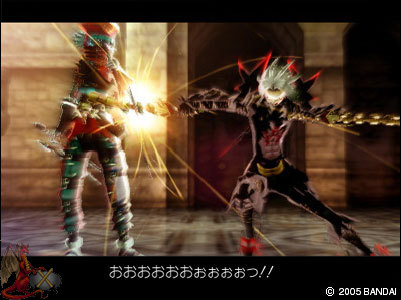 Haseo engaged in battle with the mysterious Tri-Edge
The World is reborn. Such was the catch phrase for .hack//GU at the 2006 Electronic Entertainment Exposition. Though I am less knowledgeable about the story than my good cohort Theo, I got a chance to play the game for 10 minutes or so...
From what I was able to play, it's a lot more action-oriented than the original .hack games. The player is involved a lot more in battles, rather than menus. There's more to it than just selecting an enemy, choosing attack and waiting, or using an occasional skill. While fighting, you build up a meter which allows for special moves to be used with R1, as well as a super team-ability. You can chain all of these together to pull off combos on all enemies. This seemed to be decimating, but that could have been just be for demo purposes. As in the original .hack, the other characters support the main character with attacks and spells. The main character can also use a variety of weapons from heavy to light.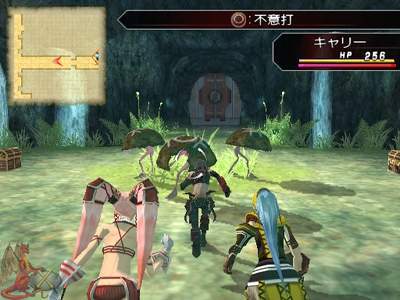 A little field runnin'.
Additional abilities include sneaking up on an enemy. You just walk up to them until you see "Sneak Attack!", press X, and the main character will dash in and deliver a blow to the enemy, which you can also chain into a combo. Also, you can board a motorbike to ride to the different areas, which is much faster than walking. You can even ride straight into dungeons and ram enemies with it to initiate combat.
All told, this seems to be turning into a nice game. There's some danger of repetition, but I'm very interested in .hack//GU myself, even after giving up on the original .hack games after .hack//Infection.