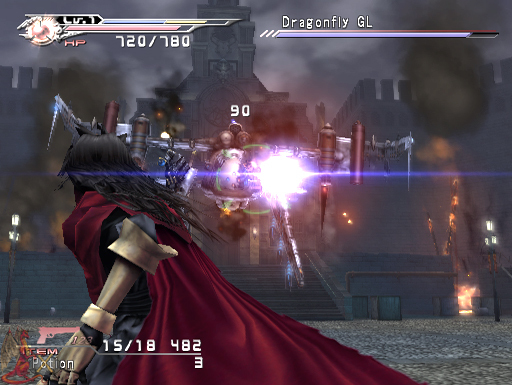 Gun fight in thrid person view.
Despite mediocre reviews from Japanese media, I was very happy to see that Dirge of Cerberus was playable at the Square Enix Press Event. I was even happier to discover that they had it set up for the keyboard and mouse. As a longtime PC FPS fan, this option meant a great deal to me. S-E reps confirmed that the controls will be fully remapable, and mouse sensitivity can be changed in the final version. FPS players will feel right at home with Dirge of Cerberus. The only exception is that Vincent can level up, and players have the option of switching from a first person to a third person viewpoint.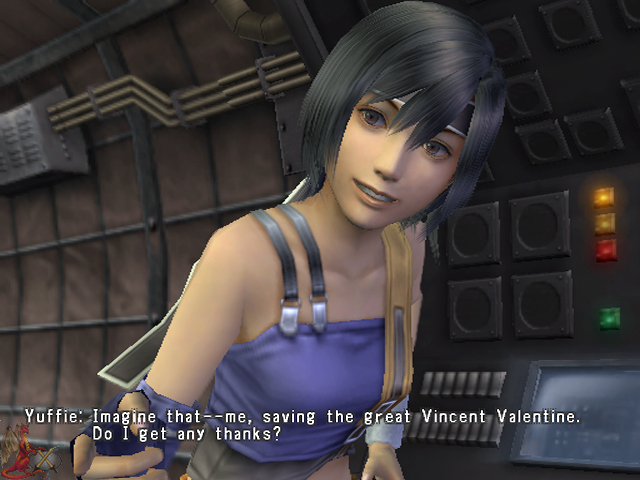 A familiar face.
Vincent also has a secondary melee attack, which can be used in succession for a decent amount of damage. Of course, Vincent's gun is far more damaging. I quickly got into the habit of using melee just to stun the enemy, and then firing to finish them. Some players will be happy to know that there is indeed area specific damage. Headshot! As fans might expect, Vincent has more then just basic melee and gun attacks at his disposal. He also has the ability to utilize materia and transform into a number of his trademark monster forms, and as I suspect, a number of new ones as well.