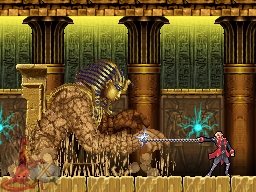 Large enemies
Portrait of Ruin seems to be trying to appeal to everyone, from the big fans of the original whip-using Belmonts to the newer fans of the Sorrow games and Symphony of the Night.
As you play, moves are gained in the usual fashion: by acquiring items. At first, all you have is a classic Castlevania metal flail with twirling, and the ability to switch to a woman with higher magic power and a three-pronged blade attack. Later you gain the ability to switch to a sword, the ability to double jump, and the power to summon your partner to either help attack enemies or to perform a special attack when they appear.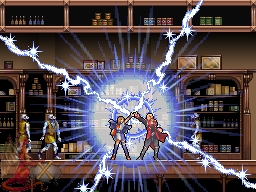 Wonder Twin Powers Activate!
The demo starts off with you exploring what looks like Dracula's castle once again. Soon, you find the aforementioned items, which open up more exploration options. Eventually I found a picture which I could enter, and it led me to a boss fight which I lost handily.
Overall, the game looks to be fun, though I'll have to see the full thing in action to really know for sure.