Castlevania: Portrait of Ruin did a nice job emulating the style of its action RPG predecessors in the Castlevania series. Though Aria of Sorrow and Dawn of Sorrow were great games, thankfully Konami has ditched the similar mechanics in those two games and put in some new stuff. There are two main characters in Portrait of Ruin, a male vampire hunter using a whip and a female magic-user.
Almost immediately after starting the demo, I obtained my first relic, which allowed for the two characters to be switched in and out of player control at will. I also soon gained the ability to summon the secondary character to assist me in battle under AI control. It was a totally new feature in the Castlevania RPGs, and it added a very interesting dynamic to the play.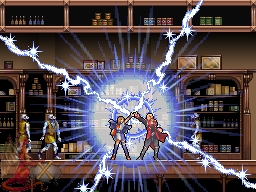 The awesome platforming of the earlier titles has returned, and the spritework and backgrounds are once again fantastic. The backgrounds seem to be even more detailed and interactive in Portrait than they were in Dawn; I was able to jump up on tables, chairs, and many other things. Lots of classic enemies returned, as well, such as zombies, bats, red skeletons, and ghost dancers. And just from how the map was unfolding, the castle seemed to be very, very large; the "portrait" aspect of the castle, which allows the heroes to go through magical portraits into the areas they depict, enabled me to play through some more distinctive environments than in previous games.
The demo ended when I fought a giant iron golem boss that, unfortunately, killed me. Still, I had a lot of fun. The core elements of the earlier games returned and the addition of cooperative gameplay, either through AI control or multiplayer, has the potential to really shake the series up.