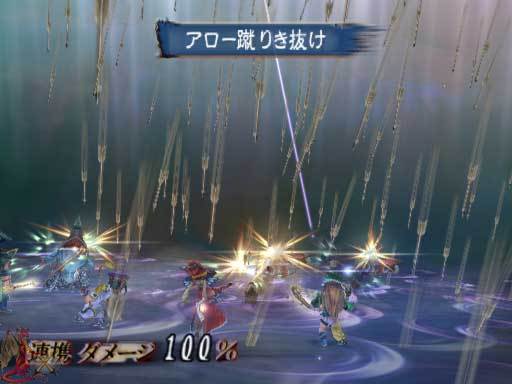 It's raining arrows?
Romancing Saga is all about details. This game is crammed full of tiny details that pile together into a monster with over 200 hours of gameplay. There are HP, MP, BP, LP, and EP amounts for characters, all of which need to be monitored during battle. Weapons have HP, which when exhausted mean they have to be repaired. There are a whole passel of separate items which can be used to upgrade weapons. Every character has a customizable class, different weapons they can use, and 6 different slots for armor and items. There is no such thing as a plain "attack" command. Characters have lists and lists separate, named attacks, all of which have various points and costs. Even defending has dozens of varieties depending on what type of shield you equip. And that's just a sample of what can be done. Reading the tutorials for all these could take hours.
Fortunately, the controls for the game are simple, and battle itself is plain turn-based action. The only thing time-consuming in that whole process is figuring out which attack you want to use.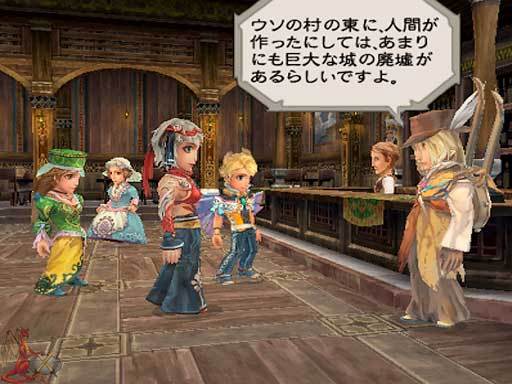 This is one tiny bar.
Like most everything Square Enix makes the graphics are lovely, if of a style some people might not like. All the myriad of things you can do in battle come with their own separate animations, all of which are fluid and beautiful. Towns are huge, and the fields are sprawling. However, they are not directly connected. You choose a destination off the world map and warp there..
There are voices for everyone, down to every obscure NPC in every town you can actually speak with. The demo version was Japanese, so unfortunately there's no judging the quality of a dub just yet.
So Romancing Saga is obviously not an RPG for the beginner or the casual player. Hardcore gamers should love its insane level of customizability, though. It should occupy American shelves sometime this Fall.