On May 7, 2011 in Atlanta, GA, the latest Distant Worlds: Music from Final Fantasy concert was held. This AWR Music Productions concert features conductor Arnie Roth and composer Nobuo Uematsu, and both were in attendance for the Atlanta show. Thanks to AWR's Chris Szuberla, RPGamer was able to obtain a face-to-face interview with veteran RPG composer Nobuo Uematsu. During this time, I was able to speak with him about his inspirations, current projects, and future compositions. The following questions are not word-for-word, but are as close as possible as the interview was conducted with the assistance of a translator, Hiroki Ogawa of Dog Ear Records.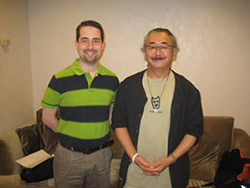 Michael A. Cunningham and Nobuo Uematsu
---
Michael A. Cunningham (RPGamer, Editor-in-Chief): First off, thank you for meeting with us. Can you share with us some of your major inspirations for your music?
Nobuo Uematsu: I became a musician because I like music, and of course there are a lot of rock musicians that I like. I never imagined that I wanted to be like anyone specific, so I kept listening to music and eventually became a composer.
MAC: Which of your compositions have been the most meaningful to you?
NU: Hmmm. Final Fantasy VI and VII. I was challenging myself with a lot of experimental things with those soundtracks, so those are some of the most important compositions for me.
MAC: Any specific pieces from those soundtracks stand out?
NU: It is difficult to choose only one. Hmm. From Final Fantasy VI, the Opera ("Maria and Draco") and "Dancing Mad." And from VII, one is the opening theme ("Opening-Bombing Mission") as it was a new challenge for me to compose something in a more of a science fiction setting. One more is of course "One Winged Angel." The way I went about composing it was very experimental, so this may have been my most challenging song during this time.
MAC: When you're composing a soundtrack for a game, how closely are you working with the development team? Do you get to see the scenes before you compose them or do you just get details? For example, what about the scene where we hear "Aerith's Theme"?
NU: I always think it's best to have as many details (videos, movies, and etc), but of course it depends on the project. I can only work with what I have at the moment, and sometimes I only have a script, sometimes I only have a movie. Talking about Aerith's scene, I remember that I did not see that movie first.
MAC: Do you actually get to go back and play the RPGs you've composed music for? Do any stand out in your mind as favorites?
NU: Yes, I did play all the games which I composed, but as for a favorite, it's very difficult to see those things as an ordinary player. I worked with all the teams and all the staff for each, so I love all of them, so it's difficult to choose only one.
MAC: These concerts have been around for quite some time and have featured a lot of your music. Are there some older pieces you'd like to see added to the setlist?
NU: The list is huge. Final Fantasy IV is known here, right? (Editor: Yes.) For example, only a few. The intro theme from Final Fantasy IV ("Red Wings") and from Final Fantasy VII, we don't recall the name, but Red XIII's theme? (Editor: "Cosmo Canyon") Ah yes, that and "Searching for Friends" from Final Fantasy VI. Also, the "Main Theme" from Final Fantasy IV. There are a lot though. I always suffer when choosing songs, because the popular Final Fantasy games are different between Japan and overseas. In Japan, when we perform the older songs, they will be happy, because most of the people have played on the NES or Super NES. Overseas most of the people have played from the PlayStation onward, so it's always difficult to choose which songs to add.
MAC: I'm one of the overseas fans that has been around since Final Fantasy and Final Fantasy IV. With changes in tech, what are some challenges you've faced in composing going from Final Fantasy all the way to Final Fantasy XIV?
NU: It has become very easy since the NES, because I used to compose with only three sounds at the same time. But now we can do all the recordings the same as popular music. There is no limit now, but it also means that the music loses something that makes it interesting, because there are no limits, so you can do anything, but very normal things. It was very unique when doing only three sounds. Creativity comes out when something is limited.
MAC: After composing as many soundtrack as you have, how are you able to stay fresh and original?
NU: I personally think that I'm always composing the same kind of songs and at times get upset, so maybe I have a different view from my audience.
MAC: Well, looking at Final Fantasy X, especially "Otherworld"? Where did that creation come from?
NU: Final Fantasy is not me. *laughs* But music like "Otherworld" is me, so it was very natural to compose. Actually, my base is rock music, but when composing for NES, I could only use three sounds at the same time, so when composing with that I had to use strong melodies. It is difficult to compose rock music with that, so Final Fantasy got strong melodies and all the compositions get nice melodies. But I think Final Fantasy X was PlayStation 2, so at that time I had a way to express rock music, so I finally did. So maybe I forgot about rock music until X, and I think The Black Mages started at around the same time as X.
MAC: Speaking of which, what's new since The Black Mages disbanded? It would be nice to have more music like that.
NU: Of course I have that desire. Actually, the new band released a CD back in March. Earthbound Papas features a guitarist, Michio Okamiya and drummer, Arata Hanyuda from The Black Mages and a new bass player Yoshitake Hirota. He is also a composer; he worked on sound effects for Final Fantasy VI and VII. There are two keyboardists, myself and Tsutomu Narita. He is also a composer and arranger; and he arranged Guin Saga and Final Fantasy XIV.
MAC: Do any young composers ever reach out to you for advice or as a mentor?
NU: Almost none. All the composers now are making Hollywood music and it's very similar. They have a talent, but maybe using that talent in the wrong way. The problem is not with the composers. The directors for video games want to do similar things with the hardware and also the music. Video game music must keep its own originality.
MAC: How has life as a freelancer been for you? How has working Hironobu Sakaguchi again been?
NU: Hmm. It's an honor for me that Sakaguchi chose me as the composer for his games. He lives in Hawaii now, so it's difficult to communicate with him like I used to. *smiles* Also, drinking with him is less than before, so that's a little bit sad. I feel like I see Sakaguchi-san a lot, because I email with him a lot more. Maybe sometimes I get to meet with him, sometimes once in a year. *laugh* I did buy a jazz CD and the vocalist was good, so I shared that with him. And sometimes Sakaguchi-san creates logo blocks and sends the pictures to me, so I contact him a lot through email.

I have been working with Sakaguchi-san since I was in my twenties. We were very young and not afraid of anything, so we could do a lot of things. Now we're both in our fifties and both want to create something that a big title from us. Something like we did before with Final Fantasy.

*laughs* If Sakaguchi-san had all the copyrights of Final Fantasy, and we wanted to remake Final Fantasy I, and we were sure we could make the best one, then we would both sign on.
MAC: What about life outside of Square Enix? Any other directors you've enjoyed working with?
NU: It's a business, so I get along with all of the directors. I'm working with Mr. Hino from Level-5 on Fantasy Life. He's very young, but really talented, so I'm enjoying working with him.
MAC: How has it been working on Fantasy Life?
NU: I've composed Fantasy Life by myself and it's a completely different image from Final Fantasy. It's very funny and has the kind of songs that children like. There are twenty-one vocal songs in the game. I'm sure that this will be a turning point in my life after Final Fantasy.
MAC: How shocking has the popularity of your music in North American and other areas of the world been to you?
NU: Hmm. At first, I was surprised, but it wasn't sudden. I've been composing for twenty-five years, so I feel like I've been climbing up the stairs little by little for twenty-five years. So if you work hard for something, anyone can make a big success like this.
MAC: Do you have anything else you'd like to share with your fans?
NU: As I continue in the music industry, I work hard to see all the audience smiling and being happy. And when thinking in that way and working for everything in that way, I think there would be no war. Thinking about how other people smile. I hope all people keep searching to touch someone with their creativity, also trying to make other people smile. I think that video games, especially their music, are important, because it is a universal language that all the people in the world can understand. So I'm very happy to have a job where I can make people smile.
---
RPGamer would like to extend a warm thanks to Nobuo Uematsu for speaking with us. We would also like to thank Chris Szuberla from AWR for arranging the interview and Hiroki Ogawa, director of Dog Ear Records, for his help translating. I would also like to thank my wife, Christie Cunningham, for her assistance with the interview as well.
Brief Editorial Review of Distant Worlds: Music from Final Fantasy
On an editorial note, the concert was fantastic. Arnie Roth and the Atlanta Symphony Orchestra were wonderful, as were the soloists throughout the concert. While the setlist was not as varied as I would have personally liked, everything that was played sounded amazing. As far as the setlist, it just needed a tad more variety. It's impossible to please everyone or to play everyone's favorite, but this was much more battle theme focused. Also, Final Fantasy VIII received four pieces while other titles only received one or in some cases none. That said, I enjoyed the music and the video clips that played throughout were great. Just don't sit in the very front row and expect to be comfortable looking up at the screen. All those nitpicks aside, I would highly recommend this to any fan of music, not just those who love video games.