Hello everyone, and welcome to another issue of Japandemonium. With all the horrific events taking place right now in the Middle-East, it seems rather silly to talk about games. Regardless of your political affiliation, I'm sure that you'll join me in hoping for a speedy end to the needless bloodshed. But, life does indeed go on, and, if you'll pull yourself away from CNN for a while, we have some Japanese news to get into. Without further ado, let's do this!
Nintendo announced a limited edition bonus for Fire Emblem: Rekka no Ken for the Game Boy Advance this week. The game is the second GBA installment in the long-running and very popular (though never localized) Fire Emblem series developed by Intelligent Systems. The limited edition bonus will consist of a CD of five songs from the soundtrack composed by Yuka Tsujiyoko, and also a month-per-page calender featuring character artwork. The CD also contains instructions for downloading mobile phone ringtones (a very popular bonus for fans in Japan). This bonus swag (seen below) will be handed out on a fist-come-first-serve basis when the game ships on April 25th, so get those reservations in quickly.
As an aside: Fire Emblem: Rekka no Ken follows on from Fire Emblem: Fuuin no Tsurugi, which was released for the Game Boy Advance at the console's launch in Japan. This latter title was confirmed to be in localization in April 2002 already (together with Brownie Brown's Magical Vacation), but since that time nothing further has been heard about the progress of the title. Hopefully we'll be able to get some answers out of Nintendo at May's Electronic Entertainment Expo, if not sooner.
The latest Dengeki charts are up, and the number one game in Japan last week was, unsurprisingly, Final Fantasy X-2. Square's most recent offering slaughtered the rest of the market, selling a gargantuan 1.5 million copies in its first week of release, with the first 1.2 million of those reportedly coming from the first day. There were rumors that the initial run of 1.8 million copies would be the entire printing run, but with nearly that amount already sold, this is almost assuredly false. While the numbers for FFX-2 are very good, it does fall well short of the 2.1 million copies that its forbear shifted on launch day. The other big new release last week was Link's Game Boy Advance debut, Legend of Zelda: The Four Swords, which sold a healthy 100,000 copies. The rest of the chart is largely unchanged from last week's, though Final Fantasy X did get another bump thanks to the sequel's release. Below are the RPGs in the Top 20 for the week ending March 16th.
Position; Title (Publisher), Console, Sales this week; Total Sales
1. Final Fantasy X-2 (Square), PlayStation 2, 1,543,494, 1,543,494
2. Legend of Zelda: The Four Swords (Nintendo), Game Boy Advance, 105,100, 105,100
5. Star Ocean 3: Till the End of Time (Enix), PlayStation 2, 20,765, 433,728
6. Final Fantasy Tactics Advance (Square), Game Boy Advance, 19,725, 365,936
11. Pokémon Sapphire (Nintendo), Game Boy Advance, 14,967, 2,060,379
12. Pokémon Ruby (Nintendo), Game Boy Advance, 14,642, 2,010,049
14. Final Fantasy X Mega Hits (Square), PlayStation 2, 10,398, 69,233
15. Sakura Taisen: Atsuki Chishio Ni (Sega), PlayStation 2, 8,784, 172,439
Last week we reported that the release of Final Fantasy Crystal Chronicles had been pushed back to sort out some problems that had cropped up with the game's battle system. To the delight of GameCube owners everywhere, Square announced on Thursday that the game, which was originally slated for release sometime this Spring, will now be hitting stores in Japan on July 18th. Final Fantasy Crystal Chronicles is more of an action oriented affair than the Final Fantasy games of late, and it is set to take full advantage of the Game Boy Advance/GameCube link-up capabilities.
Sony's latest offering, Arc the Lad: Seirei no Koukon shipped to stores in Japan this week, and gamers that were willing to fork over another couple bills were able to pick up the Premium Box. Thanks to the kind folks over at NCSX (from whom you can buy the pack) we have some shots of the bonus goodies. The box contains the game itself, a SCE mobile phone strap, figures of five of the main characters, and a large figure of the robot Diekbeck (all seen below).
Zelda-philes looking to drop some more cash after picking up the localized version of Legend of Zelda: The Wind Waker this week can consider picking up the game's soundtrack, fresh from Japan. The 2-disc set contains a whopping 133 tracks created by longtime Nintendo composer Koji Konda, including an unreleased version of the theme song. The legendary composer, who worked on most of the previous Mario and Zelda games, had plenty of help, as altogether five composers and technicians were ultimately responsible for the game's music. Shigeru Miyamoto has admitted to not having too much input into the soundtrack itself, even though he served as the game's producer. Gamers who have grown up with Link will be pleased to hear that the score contains reworked versions of tracks from both Ocarina of Time and Link to the Past. Interested parties can expect to pony up 3,200 ¥ ($26) for the set (see cover art below).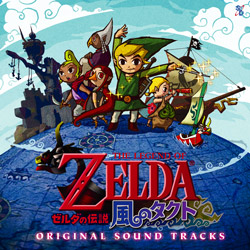 Despite the fact that the Game Boy Advance is by design a portable console, the announcement of the Game Boy Player caused a lot of excitement around the world. Throngs of gamers grew giddy at the prospect of essentially playing "new SNES" games, and the unit found itself near the top of gamers' Most Wanted lists. Nintendo released the "console" in Japan on Friday, and demand was overwhelming. All over the city, people took the streets, lining up to get their hands on the limited supply of units available. Stores in Tokyo's Akihabara neighborhood saw lines of up to 300 eager gamers, with more queues lining sidewalks in Ikebukuro and Shinjuku. One of the games getting a lot of attention in the advertising for the Game Boy Player is Square's Final Fantasy Tactics Advance, which is featured in one of the numerous television commercials.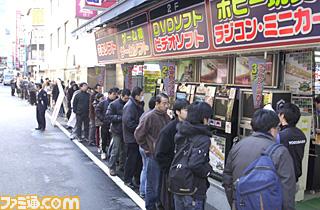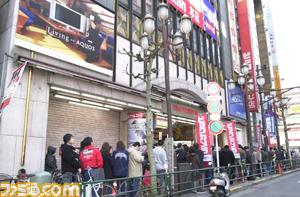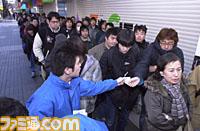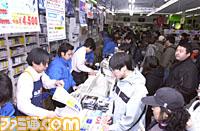 Personally, I'm looking forward to the Game Boy Player. On the other hand, I did just drop a few dollars on a Game Boy Advance SP (which I highly recommend), so I'll probably have to hold off for a while. Last week I mentioned that I'm looking for a logo design for the column, and I've received a number of submissions. I'm not going to choose one yet, though, as I'll let you work for your prize. And what prize might that be, you may be asking? Well, I have a plush Vivi doll that I'll be sending to the designer of the best logo. Please keep logos to 125 X 75 pixels and in gif format. Until next week.
Exeunt all
Missed an installment? Check out the archives.