Hello everyone, and welcome to another packed edition of Japandemonium. While there's little going on at the register in Japan, the news services are buzzing with all the information leaking out. This is a biggie, so let's jump right in.
No, I didn't just cut-and-paste the same list from the last update, The Dengeki numbers for the week look remarkably similar to last week's; same games, lower numbers. Square Enix's Shinyaku Seiken Densetsu did eke out enough sales to sneak back onto the list, but that won't last long. Sales for the returning games were semi-respectable, but their performance is sure to suffer a lot with the oncoming torrent of games. Below are the numbers for the week ending October 19th.
| | | | | | |
| --- | --- | --- | --- | --- | --- |
| Pos. | Title | Publisher | Plat. | Sales | Total |
| 5 | Tengai Makyou II: Manjimaru | Hudson | | 14,564 | 135,316 |
| 7 | Drag-On Dragoon | Square Enix | | 8,576 | 233,255 |
| 20 | Shinyaku Seiken Densetsu | Square Enix | | 3,556 | 259,262 |
The editors of Famitsu had another quiet week last week, only reviewing one RPG. First revealed back in August, Idea Factory's Spectral Souls found itself on the chopping block this week and came away head still attached, for the most part. The game didn't bring in any awards but proved to be slightly above average in the eyes of the well-known review team. For more information on this latest update of the long-running, Japanese-exclusive Spectral series, check out this past installment of Japandemonium. Individual editor scores are reproduced below.
| | | | |
| --- | --- | --- | --- |
| Title | Publisher | Plat. | Scores |
| Spectral Souls | Idea Factory | | 6, 7, 6, 6 - 25/32 |
While Working Designs continues to drag its feet with regards to Growlanser Generations (a two-pack containing localized versions of Growlanser II: The Sense of Justice and Growlanser III: The Dual Darkness), Atlus is gearing up to give fans of the popular series a day to remember. December 18th marks the day that not one or even two, but three different Growlanser items hit stores in Japan.
First up is Growlanser Collection (7,800 ¥ or $71), which contains the first game for the PSone and both of its PlayStation 2 successors. Next up is a PlayStation The Best (Japanese Greatest Hits) version of Growlanser III for the PlayStation 2 (2,800 ¥ or $26). And lastly we have the brand new game, Growlanser IV: Wayfarer of the Time , which will feature a story steeped in war and the supernatural. This latest series installment will be available in both regular (6,800 ¥ or $62) and deluxe editions (9,800 ¥ or $90). The deluxe edition will contain the super-deformed character figure shown below (image courtesy of Atlus) and also six postcards featuring the unique art styling of character designer Satoshi Urushihara. Meanwhile, Growlanser Collection will contain new artwork on the discs themselves. Atlus has stated that this collection will only be produced in limited quantities, and once they're gone they're gone, so get 'em while you can.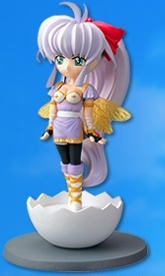 A few months ago, I mentioned that Nintendo was running a promotional campaign to commemorate the 20th anniversary of the Famicom by releasing a very limited number of Game Boy Advance SPs decked out in the Famicom's color scheme. To get one of these rarities, gamers had to send in proof-of-purchase tags from Nintendo products. These special units starting shipping this week, and I have a few nice pics of the console, courtesy of John Ricciardi. For bigger pics, check out John's blog.
Card games can sometime be complicated beasts, which is why Atlus is making sure that demon-loving Shin Megami Tensei fans are up to speed. The company announced last week that it will be holding regular workshops and tournaments throughout Japan during November that deal with version 2 of its collectible card game based on Shin Megami Tensei III: Nocturne. It's not all edutainment though; Atlus will be handing out some free swag to attendees, including a free card and playing mat to everyone who pitches up, and a second card to those that rank well in the in-store tournaments. For a full list of places and times of the workshops, check out Atlus's official site. Images of the cards below are courtesy of Impress Game Watch.
While Final Fantasy XI is getting all the attention, it's not the only online RPG that Square Enix is supporting at the moment. Depth Fantasia ignited servers across Japan in late 2001, and to commemorate the two-year milestone, the company has announced a release of an all-in-one version of the game that will include both of the previously released expansion packs. Square Enix has also announced that the game servers will be getting an update on December 4th.
Sticking with online RPGs, GameOn revealed this week that the Japanese subscriber base for Webzen's MU has surpassed 150,000 users. This feat is even more impressive when you consider that the open beta for MU opened in Japan a mere four months ago. The game has proven to be an enormous success in Asia, with more than a million subscribers already roaming the persistent game world in Korea and China. One of the appealing factors of the title is undoubtedly the developers' penchant for introducing interesting and novel player events. In the past few months, residents have been able to play battle soccer and take part in officially sanctioned player killing, and there are several events planned for November. GameOn has announced that it hopes to have 300,000 users by the end of the game's first year.
As is becoming the norm lately, another week brings with it another Square Enix commercial. This time, the company is promoting the upcoming Slime Mori Mori Dragon Quest game for the Game Boy Advance. This time around, Square Enix has forgone the realistic look of its last two commercials in favor of something a bit more animated. The new commercial, which starts airing in Japan today, features the lead slime character roaming the game world in gloriously animated form. The commercial also shows off some of the slime's new moves, including the ability to form columns of slime for besting baddies. The visual style of the production should be very familiar to series fans, as they are based on Akira Toriyama's character designs. Toei, one of the larger animation houses in Japan, was responsible for bringing the slimes to life. Below are a few screens of the commercial, courtesy of Impress Game Watch. Slime Mori Mori Dragon Quest is set to hit Japan on November 14th.
As mentioned above, Idea Factory is getting ready to unleash Spectral Souls on the Japanese market. The company has revealed that on the game's launch day, October 30th, it will be teaming up with stores around Tokyo's Akihabara neighborhood to give away free trading cards based on the game. If you're in the area, head on over to AsoBitCity, Sofmap, Medialand or any of the other bigger game retailers for your free, limited edition swag.
To close off this week, I have some news of an interesting partnership between Intel and Square Enix. The companies announced on Tuesday that they will be collaborating on projects that will allow for a much higher quality of game to reach computing platforms, especially PDAs and mobile phones. According to Bill Siu, vice president and general manager of Intel's Desktop Platform Group, the partnership will allow the companies to work together to allow for new gaming experiences that take full advantage of the most advanced processor technology.
"Square Enix looks forward to working with Intel over the long-term to the benefit of both companies and to end users," said Yoichi Wada, president of Square Enix. "We know that gamers are demanding and this proposed collaboration will allow both companies to create a new type of gaming experience that capitalizes on the recent advancements in video game and platform technology. We believe we can not only meet, but exceed the needs of an increasingly more sophisticated and growing interactive gaming market."
While short on specific details as far as solid ideas are concerned, the announcement does indicate that Square Enix is making an effort to diversify its traditionally console-centric business. The companies are set to plan, develop and market future products together to be able to take advantage of what current processor architecture has to offer.
---
Commentary
Phew! That's all from me for this week. I promised that I would update over the weekend and I didn't. Obviously I'm not to be trusted. But, I do have one thing going for me: stick-to-it-ness. As of next week, I've been doing this feature for one full year. It might not mean much to you, but for me it's been a lot of fun.
So, I'm going to end this week much like I ended off my very first column, with a question. I am always looking to improve the column, and over the course of the last year I've received a lot of comments (mostly positive but some negative) and even some artwork (Thanks Pedro!). If there is anything that you want to see added to the column, let me know. As much fun as it is to write it, this is for you guys and girls after all.
I'm done. Thanks for reading my work over the last year. Catch you all next week.
Exeunt all
Missed an installment? Check out the archives.