Hello everyone, and welcome to this week's Japandemonium. As you can imagine, video game news is currently dominated by E3, which takes place in Los Angeles next week. RPGamer is busy gearing up to descend on L.A. to get our paws on all the new games that developers have on offer. If you've read our E3 Preview, you know that this year is going to be huge for RPGs. Since this is going to be my first trip to the expo, I'm beyond excited. If you're not going to be able to make your way over there, make sure to check out the staff journals that will hopefully give you a good idea of what it's like to be there. For now, let's get to some Japanese news.
The latest Dengeki sales figures for Japan are out, and the top title this week is a bit of a surprise. The original PlayStation was released in Japan in 1995. That's nearly a decade ago! So, what better way to rake in the money than by releasing a game based on a highly popular anime series, on a console with one of the largest installed bases of any piece of video game hardware. Bandai's latest One Piece cash-in took top honors, with a respectable 60,000 units shifted. Other movement of note includes a pick-up in sales of both Pokémon Ruby & Sapphire and a major drop for GiFTPiA. Nintendo's quirky RPG seems on its way out, with just over 40,000 sales. The other major disappointment is Harvest Moon: Mineral Town, which fell down to the 24th position with less than 10,000 units shifted for the week and 50,000 in total. The full details for RPGs that cracked the Top 20, during the week ending April 4th, can be seen below.
| | | | | | |
| --- | --- | --- | --- | --- | --- |
| Pos. | Title | Publisher | Plat. | Sales | Total |
| 1 | From TV Animation: One Piece Ocean's Dream | Bandai | | 61,288 | 61,288 |
| 4 | Fire Emblem Rekka no Ken | Nintendo | | 47,550 | 141,430 |
| 7 | Dragon Quest Monsters: Caravan Heart | Square Enix | | 33,130 | 465,486 |
| 11 | Pokémon Sapphire | Nintendo | | 18,383 | 2,158,340 |
| 12 | GiFTPiA | Nintendo | | 17,914 | 40,814 |
| 14 | Pokémon Ruby | Nintendo | | 16,867 | 2,104,469 |
| 15 | 2nd Super Robot Wars Alpha | Bandai | | 14,128 | 469,295 |
| 18 | Final Fantasy X-2 | Square Enix | | 11,307 | 1,939,630 |
Fourteen years after the series' debut on the Famicom (NES in North America), Nintendo is preparing to release Mother 1+2 for the Game Boy Advance. The company announced this week that it will be giving those who preorder the title a nifty cellphone strap. It's not just your regular strap, though, since it has a miniature Mr. Saturn figurine attached, a character those who played Earthbound (Mother 2 in Japan) will be all too familiar with. The game itself is currently on track for release on June 20th for 4,800 ¥ ($41).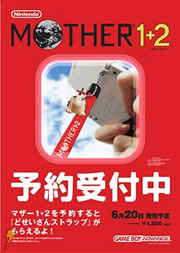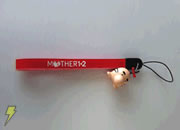 The third Game Boy Advance installment of Konami's Castlevania series, Castlevania: Aria of Sorrow, was released in both North America and Japan this week. To commemorate the game's release, Koji Igarashi (aka IGA), the game's producer, and character designer, Ayami Kojima, hit the streets of Tokyo's Akihabara prefecture to spread the word. The two creators went on a whirlwind tour of Tokyo's famous neighborhood, making one-hour stops at seven different stores, where they signed autographs, gave out postcards (see below) and spoke about the task of bringing the game to life. Igarashi touched on the Soul system that was introduced in this latest installment, but he was tight-lipped when asked about the upcoming PlayStation 2 series debut. He did, however, mention that those looking forward to the game should keep an eye out for its showing at E3 next week in Los Angeles.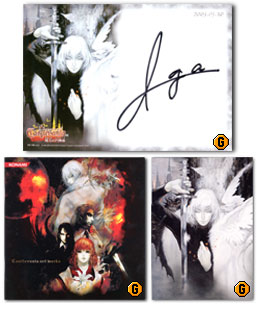 Digicube announced the soundtrack for Square Enix' MMORPG expansion pack, Final Fantasy XI: Vision of Ziraat, on Friday. The soundtrack was composed by Naoshi Mizuta, who left Capcom to join Square in 1998 to score the highly anticipated Parasite Eve II. Mizuta also worked on the original soundtrack for Final Fantasy XI with Nobuo Uematsu. The 19-song disc is set to hit stores in Japan on May 21st for a paltry 2,100 ¥ ($17). The CD also contains an entry form to win a T-shirt. Check out the cover art for the soundtrack below.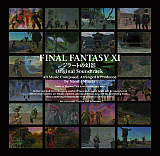 Gamers that are eager to bring out their inner biker will be pleased to hear that Square Enix has updated its official Bakusou Yankee Damashii site with information on the free demo. The demo for developer Atelier Double's quirky online biker RPG will be available for download on May 23rd. The game gives players the chance to join virtual biker gangs, and will allow the usual MMORPG character customization options, as well as the ability to fully mod your ride. Check out this previous installment of Japandemonium for more information on the game and detailed system requirements.
That's it for this week. There won't be an update next week, as I'll be in Los Angeles for E3. I will, however, be keeping an eye out for interesting games that readers of this column might be interested in. I'll be posting plenty of pics in my journal as well. I would love to hear any comments that you have. Make sure that you get some sleep this weekend, because next week is going to be bedlam.
Exeunt all
Missed an installment? Check out the archives.