Sixteen-hit elephants.
tri-Ace and Square Enix have quite the history between them. tri-Ace developed every title in Square Enix's Star Ocean series, and have joined forces with the big SE once again to release a different, yet still Star Ocean-esque game titled Radiata Stories. Radiata Stories was on display directly across from Romancing SaGa, and yours truly ventured briefly into the game and quickly got thrashed beyond all recognition.
The game starts out with a scene programmed specifically for the E3 demo, where Radiata Stories producer Yoshinori Yamagishi, who has been unwillingly transformed into a goat, gives you an option of either adventuring through the very beginning of the game, or venturing through a dungeon to defeat a boss, which will subsequently transform him back into human form. Being the chivalrous sort that I am, I opted for saving Mr Yamagishi.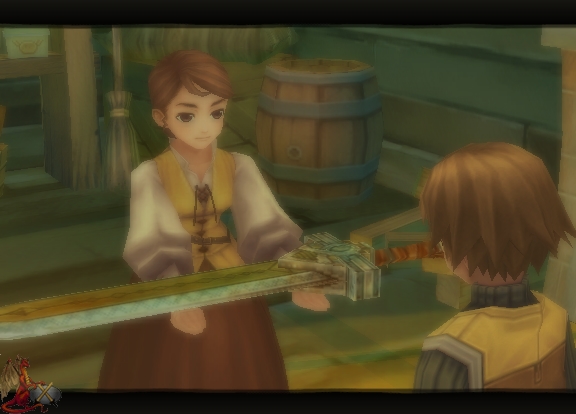 Swordians? Naw.
I got into a good number of battles while venturing through the dungeon; all of which started with the screen changing with the exact same "you're getting into a battle!" screen transition and sound effect found in Star Ocean: Till the End of Time. The battles themselves are also very reminiscent of Star Ocean 3. Using a normal attack by pressing the circle button will automatically move your character to the targeted enemy for the attack. Pressing square will make your character perform a more powerful attack; only this time, your character will not automatically move towards the enemy and attack. You will need to manually position your character for those attacks, it would seem. All in all, the battle system seems a bit clunky and slow, especially compared to Star Ocean 3, but it was still fun nonetheless. Eventually I made it to the end of the dungeon, and quickly got thrashed by the boss, thus failing Mr Yamagishi.
If you're into tri-Ace's previous titles, then Radiata Stories definitely seems to follow in the same trend. Look for the game when it's released in fall 2005.