| | | |
| --- | --- | --- |
| Issue #24 | Canadian Bacoun | March 18, 2005 |
Later today, I'll be taking a drive to Canada! To celebrate, I'm spelling words really goofy like Canada does. That means I'll be using stuff like colour, cheque, harbour, Ounline, computour, and MMOuRPGamour!

Players who enjoyed The Matrix Online's recently-finished beta testing now have one more reason to be excited for the game, as Monolith has just announced another feature that will be in place for the game's retail version. Specifically, a "specialized role-playing live events team" will be in place. Members of this "team" will take on the roles of the well-known Matrix characters and support the continuation of the story within The Matrix Online. Players will interact with these characters in many forms, all within the context of the ongoing Matrix storyline. The events in which they take place are being continuously written, and all ideas must go through the Wachowski Brothers before being implemented. Revealed activities in which these characters will participate include supporting player organized events, in-game story relevant contests, speeches, riots, parties, duels and more.
In more Matrix Online news, the ending of the beta event is said to have been quite the incredible experience. Our own Jeff Walker was there and has given MMORPGamer a rundown of the last three days, in compliment to his impression. Apparently, the last three days were the most intense of the experience, and the final day was described by Jeff as "very apocalyptic." He said that agents began to surface all over the place, and fought players till the end. At one point, they even selected random players, called to them by name, and hunted them down. They'd say things like, "You cannot hide, Orexis. The matrix is not safe, even for exiles." In some cases, a group would form around the player in danger, and everyone would join together in a defensive effort against the agents. It was really something to see.
Numbered agents played by developers appeared also. When a numbered agent attacked someone, they'd be flagged for open PvP. This would pretty much ensure a character's doom. Agents also started spreading a flame virus to players, which added to the chaos caused by the death of Morpheus, the sky turning red, and other storyline events. The Matrix Online's own radio station, Radio Free Zion, covered the whole thing, with correspondents all over the game, delivering live updates. All of this commotion ended with players being crushed and compacted. Here's a video of a player named Unshra being killed by such a smashing.
Jeff said, "Basically the chain of events was...Morpheus killed, Zion breaks truce, Machines send agents, skies have eyes, more agents, more eyes, flame virus shows up, open PvP starts, skies turn red, numbered agents start killing, skies clear, blue beam appears, characters crushed, beta ends. There were also rumors of Morpheus being alive again, Neo flying around, and Agent Smith...but none could be verified." However, it should be noted that this story was exclusive to the beta, and will not be the one used when the game reopens on March 22. Read more about the game in Jeff's full impression before I come to your house and murder you.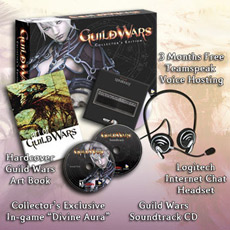 Ever since its appearances the past two E3 events, Guild Wars has been picking up more and more anticipation. Catering to the high level of buzz, ArenaNet will be releasing a special Collector's Edition alongside the regular game package on the April 28th shelf date. This special edition will contain the standard game, soundtrack CD, a full-color, hardcover art book, Logitech Headset, and an exclusive in-game item called the "Divine Aura." Three months of free voice hosting service through Teamspeak will also be tossed in, going nicely with that headset.
Characters who equip the Divine Aura are surrounded by a special effect, which varies depending on the god who bestowed it. Once blessed by the gods, Divine Aura stays with a character; it cannot be traded or given to others.
Selling for $79.99, this special pack has thus far only been announced for North America. ArenaNet has pledged to keep the media updated about international versions.


Earlier this month, Moscow, Russia, hosted an event called "Gameland Award," a ceremony recognizing computer and video game achievements. The expansion to Russia's homegrown MMORPG Sphere: Continent of Power took home the awards for Best Multiplayer Game of 2004.
Gameland Award has become the first activity on such a scale organised by the leading journalists of the Russian game industry. The award ceremony took place in the Central Academic Theatre of the Russian Army. Leading developers, publishers and localizing companies from Russia and CIS states took part in the event. Founders of popular game magazines, television, film, rock and pop stars came to congratulate the winners.
Nominess in the "Best Multiplayer Game of 2004" category included Soldiers: Heroes of WW2, Ostrich Runner, Kreed: Battle for Savitar, Perimeter, Alexander, Pearl Harbour and Gulf War. Sphere's award-winning expansion was released on November 19, 2004, and introduced several big changes to the game. It is said that the hard work these changes required was the primary factor in Continent of Power's victory.

New details of Fantasy Earth: The Ring of Dominion's setting have come forth. The country of Elthord, one of the five kingdoms of which players can be citizens, is ruled by a wizard king, and its populace is comprised primarily scholars. In contrast, Gebrand is a land where might makes right. Beset by constant uprisings and overrun by corrupt officials, it isn't an easy place to live.
In other Fantasy Earth news, the Priest has been added to the list of player classes. Additionally, a plethora of fantasy-based monsters, such as goblins, orcs, griffons, and harpies, will be present in case players get tired of picking on other players.



The World of Warcraft community site has posted an FAQ about the upcoming Character Transfer opportunity. The first transfer will only allow for players to be moved from Arthas to Nathrezim, but Blizzard is reportedly working on making other transfers possible in the future. Here are some of the questions asked and answered:
Question: Who is eligible to move their characters?
Answer:Players who have characters on an eligible high-population realm will be able to move their characters to a designated realm. Click here to see a list of eligible realms.
Q: Can I select which realm to move to?
A: No. Characters on eligible realms will be able to transfer to one designated low-population realm. This will ensure that the population disperses evenly. Also, we wanted to make sure guild mates and friends would all end up on the same realm if they decided to transfer.
Q: Can my entire guild move?
A: Yes, however in order to move, guilds will have to disband and reform on the new realm. In addition, guild leaders cannot transfer to the low-population realms unless they transfer leadership to another guild member or disband the guild.
Q: Will you allow us to move our characters to the realm of our choice at some point?
A: We are considering offering players that option in the future.
Q: I transferred to the low-population realm and I don't like it. Can I move back?
A: No.
Those who want to know more about World of Warcraft character transfers can keep an eye on the list of eligible realms here, after reading the full FAQ here.
In one more spot of unsurprising WoW news, Blizzard Entertainment announced today that the game has surpassed the 1.5 million subscriber mark, underscoring the game's continued success around the world. Building on its record-breaking debuts in North America, Korea, and Europe, World of Warcraft has reached global peak concurrency of more than 500,000 players. "All of us at Blizzard are extremely gratified and amazed at the international demand for World of Warcraft," said Mike Morhaime, President of Blizzard Entertainment. "From region to region, we've seen a phenomenal level of enthusiasm for World of Warcraft, and we're absolutely thrilled people are enjoying the game so much." More specific numbers show approximately 800,000 players in North America, 500,000 in Europe, and over 200,000 in South Korea.

One calling himself "Mr. Wibble" sent in a nice helping of FFXI screens. He said, "Alrighty! I got some screens of some of my adventures in Vana'Diel for you! I call it... the life of a level 10 newbie in Final Fantasy! Some of these shots are pretty good, and others show the boat and stuff." Thanks for the screenshots, Mr. Wibble!


Wanna show the world some personal highlights from your favorite in MMORPGs? Take some screenshots and email them to rage@rpgamer.com.




And now my stuff is packed, plans are made, rough ideas of directions are jotted down on pieces of water-damaged paper, I'm armed with a credit card, and must be on my way. I'll give you a run-down of my experience with the DAoC Roundtable thing in due time.

Ouh, you knouw Heath Hindman beat that jouke to death!



rage@rpgamer.com