RPG ELEMENTS
Introduction
In a shocking turn of events, RPG Elements is here for the second month in a row. This time I'm taking over to highlight a recent art book import, as well as go over a trilogy of other art books I've had for a bit but figured now would be a good time to look back at.
With that said, on to the content!
RPGamer has shown a fair amount of love to Falcom's Legend of Heroes series in the past couple of months thanks to XSEED Games' release of Trails in the Sky SC and Trails of Cold Steel. As part of my semi-regular import of soundtracks from Japan, I decided to go ahead and include the recently-released art book for the latter title. The Legend of Heroes: Sen no Kiseki The Art Book covers both the first game and Trails of Cold Steel II, following a similar structure and layout to the previous art collection that covers Sora no Kiseki (Trails in the Sky) and Zero/Ao no Kiseki (not yet localised), though this time contained in a single book.
The first forty or so pages feature official full-page illustrations involving the various cast members of the game in the usual mix of lighthearted and serious poses. Following that is the character section that makes up half the art book, featuring every party member and NPC that plays any significant role in the two games in the various outfits and poses. The next section features artwork from certain cutscenes. There may be some spoilers embedded within these, however, as they appear without too much context it's hard to note any of them as being so. The book then wraps up with its concept art section incuding everything from early character designs to vehicle blueprints to locations to emblems.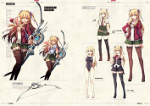 The art-heavy nature means that there isn't too much spoilering going on here, and helps make it a very import-friendly offering (importing it, naturally, also helps to cut any spoilers that likely does linger in the text for non-Japanese readers). That said, those who haven't played at least the first game will find some for certain characters so it is advised to have a least completed that going through it. While it might not hold attention for as long as those that provide more in terms of outright information, it certainly works as a good way for those who have finished the first game to get excited. The book itself is a high-quality printing and is very enjoyable just to flick through for a bit to remind oneself of the characters and the setting from the first game.

Verdict: A nice, high-quality stop-gap to help tide over the wait for the second part of Trails of Cold Steel with very few spoilers.

Info:
Publisher: SB Creative
Release Date: 09.24.2015 (Japan)
Pages: 208, Colour
RRP: ¥3,200 (c. $28)

I also wanted to take some time to dive back into a set of art books I've owned for a couple of years now, but are perhaps back into relevance with the localisation announcement of Valkyria Chronicles HD Remastered, and news that a series reboot is coming to Japan soon. All three entries in the Valkyria Chronicles series received art books that were translated into English by Udon Entertainment, even the unlocalised third game. As their overall structure and content is quite similar we're going to look at Valkyria Chronicles: Design Archive, Valkyria Chronicles 2: World Artworks and Valkyria Chronicles 3: Complete Artworks in one go.

Unlike the Sen no Kiseki art book, the Valkyria Chronicles ones feature a substantial amount of text and are very heavy on spoilers for those who haven't played the first two games or who hope to someday play the third game. The first and third books have sections devoted to a recap of the game's plot, with the first one done in the same newspaper-style format as the base game uses for its chapter selection. Reading through these is a great and very enjoyable way to recall (or in the case of the third game, discover) the events of the game with the reporting dynamic used effectively. In keeping with the different story structure of that entry, the Valkyria Chronicles 2: World Artworks chooses instead to convey its story through the character pages. On the whole this makes the information aspect a bit less interesting — though that game arguably has the weakest plot overall anyway — and more effort to mentally collate, and makes it the weakest of the three.

The book for the first game is the most impressive and is a beast in terms of size at 400 pages, with almost no blank space on any of those pages. All three books contain tons of information about virtually all aspects of the games. There are notes on the designs for everything, from the history and bios of all the characters, stats and notes about every single weapon and vehicle, even how the flags and emblems were designed. It also takes a look into the production of the game and how the gameplay evolved, including informative interviews with some of the development staff.

The Valkyria Chronicles art books are easily the most complete and in-depth I've seen. The first one is the one I'd most recommend, doing the most interesting job of recapping its events and just jam-packing itself with all the details a fan could want, but all three have huge plus points. Fans who pick these up will be able to spend at least a few days on each just going through all the fascinating details on offer.

Verdict: Amongst the most detailed and complete set of design works out there and a great collection for series fans, especially those who want to see what they've missed in the third game.

Valkyria Chronicles: Design Archive Info:
Publisher: Udon Entertainment
Release Date: 08.11.2011
Pages: 400, Colour
RRP: $49.99

Valkyria Chronicles 2: World Artworks Info:
Publisher: Udon Entertainment
Release Date: 17.05.2012
Pages: 304, Colour
RRP: $49.99

Valkyria Chronicles 3: Complete Artworks Info:
Publisher: Udon Entertainment
Release Date: 04.18.2013
Pages: 256, Colour
RRP: $39.99

That's it for this installment. Maybe there will be more in the future, but until then, let us know in the comments what cool RPG related merchandise or books you have been spending your time with and money on lately.

Until next time!