CURRENTS
Front Page
Welcome to another issue of RPGamer's Currents. As always, this column is dedicated to providing interesting perspectives on recent video games industry news. However, the layout of our industry can be attributed in no small part to Nintendo's former president Hiroshi Yamauchi. Had it not been for his leadership, video gaming may have died in its cradle. I honestly can't overstate the importance of this man's role in defining a once struggling industry, and how recognized his legacy should be moving forward.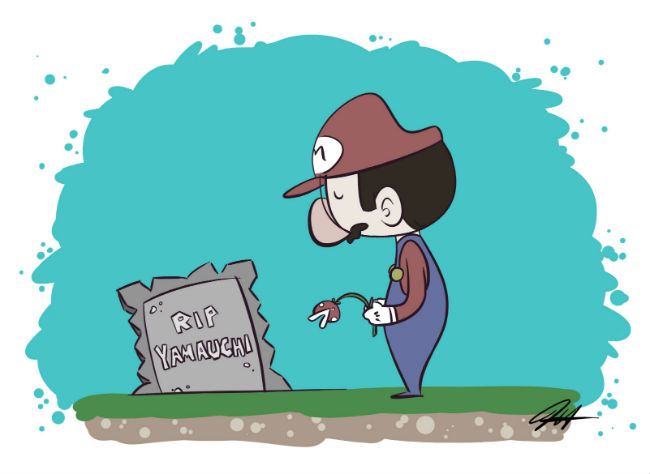 In a bit of a change of pace, I'd prefer we not start by discussing any recent development within the market. We have lost an important figure, and I think we should honor him by discussing his deeds.
If I could ask you readers some questions this week, they would be:
What was your first experience with a Nintendo console?


What is your favorite game developed by Nintendo?


Yamauchi took over the presidency of Nintendo in 1949 from his dying grandfather. At that point, the family-owned company was known as a small playing card producer in Japan. Through the employ of visionaries such as the legendary Shigeru Miyamotu and father of the D-pad Gunpei Yokoi, Yamauchi moved Nintendo into the market of handheld electronic toys. One of their most innovative lines of toys, the Game & Watch series, would eventually determine the company's future in home entertainment.
Today, we recognize the success of the original Nintendo Entertainment System, but its achievement in the market is often understated. The video game crash of 1983, which was known as "Atari shock" in Japan, nearly destroyed our industry entirely. Too many competitors flooding the market with too many rushed games resulted in a massive industry recession. While video game revenues reached a high in 1983 of $3.2 billion, the following years saw a substantial drop in revenues of up to 97 percent (eventually hitting an all-time low of roughly $100 million). Several companies went bankrupt overnight, Atari themselves faced a complete meltdown, and many investors began to doubt the long-term viability of home video game consoles. What was Nintendo's response? It released the Famicom.
Originally devised by Masayuki Uemura, the Famicom (shortened from "Family Computer") was a bit of a game changer. Launching in Japan at the peak of industry recession, Nintendo's second home console (technically the honor of being first goes to the Japan-only "Color TV Game" console) was originally designed to compete with the Epoch Cassette Vision released two years earlier. Uemura had intended the device to be a true family computer paired with a keyboard, disk drive, and modem, but Yamauchi wanted the console to be aggressively priced and removed these peripherals to focus on the essentials: a set-top, advanced gaming device paired with a unique controller which sported the same innovative D-pad technology included in Yokoi's innovative Game & Watch device. Yamauchi also selected games developed by Miyamoto for the system's launch, and demanded that interchangeable game cartages be enabled for player flexibility and future licensing opportunities. In making these strategic decisions, Yamauchi developed a powerful and flexible console capable of appealing to wary Japanese consumers, with regional sales passing 2.5 million by the end of that year, and presented legendary designer Shigeru Miyamoto a platform to galvanize player game design expectations.
After a few missteps in trying to launch the Famicom stateside, which could mostly be attributed to poor market conditions, Nintendo decided to go its own way. Not only did the company choose to avoid partnering with an American company (they had originally planned to work with Atari), but also to redesign the console's casing and re-brand the devise so it wouldn't remind Western audiences of the many video game consoles that had burnt them out just a few years prior. All terminology related to "games," "playing," and "fun," was scrapped in favor of mature wording without any of the negative connotations of the Atari era.
During the Atari era, almost anyone with a computer could design and sell rushed Atari 2600 games. There was no entity willing to enforce quality restriction and it led to a market flooded with what was known as "shovelware," clearance bins and garbage dumps full of cheap games, and disinterested consumers. Nintendo, on the other hand, prohibited third-party developers from releases games for competing consoles and confined them to releasing only two games a year. The content of those games also had to follow a specific moral code, avoiding the topics of sex, extreme violence, and substance abuse. Licensed games received both a printed "Seal of Quality" on their boxes and access to the proprietary 10NES lockout hardware (a chip on the cartridge's circuit board that checked in with a corresponding chip on the console). All of these actions helped maintain market consistency for the NES and helped Nintendo side-step the pitfall of low-quality software that had initiated the crash of 1983.
Thanks to Nintendo's restructuring of industry standards, consumer expectations were redefined and the industry once again seemed appealing to general audiences and investors alike. By 1989, home video game sales in North America had reached $5 billion, surpassing the previous industry peak, and a large majority of the market was filled by Nintendo. The Nintendo Entertainment System managed to sell over 30 million units by the end of 1989, was the undisputed leader in North America for several years, and wasn't seriously challenged until Sega's Genesis. Some would make the claim that Nintendo didn't really save the video game industry as another company would have stepped in if they have not, but these speculations don't have baring. The Sega SG-1000 was a contributor to the industry crash and the Master System took almost all of its cues from design to marketing from Nintendo. The few other hardware and software companies to survive the crash were still reeling from its effects. Not only was Nintendo the only hardware company willing to take a risks during the heat of industry recession, but Yamauchi's leadership managed to create precedents within industry that changed the way things were done. We're still feeling the effects of those decisions today.
Whether you are a Nintendo fan or not, you owe your hobby to Yamauchi's far reaching influence. It doesn't matter if you play your games on a PlayStation, Xbox, personal computer, or mobile phone, this man managed to generate a model of sustainable industry regulation that has been adapted and updated by partners and competitors alike. He may not have been active at Nintendo for many years, but I'm sure he's presence is still felt. He led a great life and I won't forget his impact on my favorite hobby.
Source: Game Over: How Nintendo Conquered the World (David Sheff)
Valve appears to be positioning itself to better compete for your living room. For well over a year, the industry has mulled over the idea of a "Steam box" — that is, a consumer electronic device that would integrate Valve's successful PC gaming platform with your entertainment center setup. Considering the strength of Steam's service offering and flexibility of its marketplace, it had been thought that a home device would act as a disruptive innovation to what some consider a stilted home console marketplace. While we have heard of hardware designers being brought on and let go by Value, some had begun to doubt Valve's intentions after the expensively priced Piston's Xi3 failed to make an impact. Fear not though; as Valve has announced the next step in bring Steam to your HDTV: the Linux-based Steam OS.
"Steam is not a one-way content broadcast channel, it's a collaborative many-to-many entertainment platform, in which each participant is a multiplier of the experience for everyone else," reads the SteamOS website. "With SteamOS, 'openness' means that the hardware industry can iterate in the living room at a much faster pace than they've been able to. Content creators can connect directly to their customers. Users can alter or replace any part of the software or hardware they want. Gamers are empowered to join in the creation of the games they love. SteamOS will continue to evolve, but will remain an environment designed to foster these kinds of innovation."
Building on that, a device installed with SteamOS will allow existing Steam games to be streamed from your personal computer. Even if those games haven't been perfectly configured for Steam OS, they'll still be available to some degree for your HDTV. A Family Sharing feature was also announced and it has been indicated that Valve is planning to integrate popular streaming music and video serves in the future. There's no word as to how the company plans on implementing Linux support for major AAA releases, but they've promised more announcements as well as a free download of SteamOS in the coming weeks.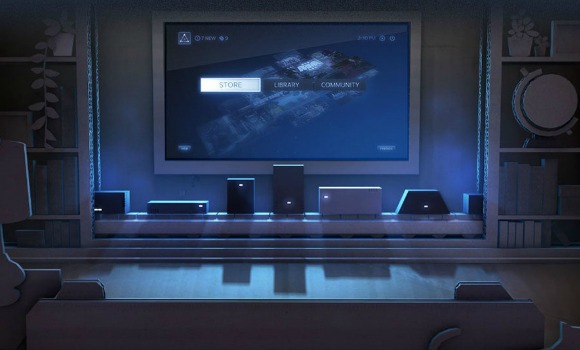 With regards to hardware, Valve has revealed that several "Steam Machines" are being prepared for the marketplace, including a Valve-branded prototype, however, Valve still wants SteamOS to be an open platform and users can also build their own Steam Machine if they wish. The Piston Xi3 may have technically been the first Steam Machine on the marketplace, but it doesn't look as though it has set a precedent in terms of pricing or design.
"We want you to be able to choose the hardware that makes sense for you, so we are working with multiple partners to bring a variety of Steam gaming machines to market during 2014, all of them running SteamOS," says the company onĘthe reveal website. Steam Machines will be available in the beginning of 2014 according to Valve, but prior to the full launch Valve is conducting a limited hardware beta with 300 selected Steam users.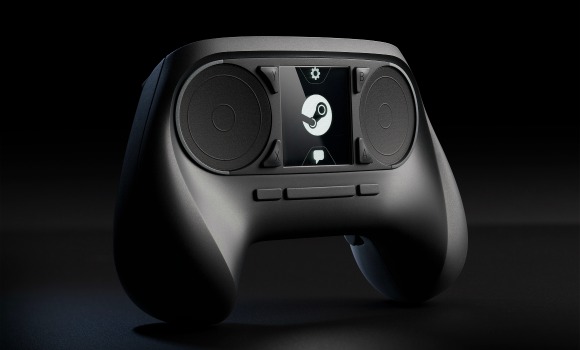 Finally, a Steam Controller has been revealed by Valve to work with SteamOS in the place of a keyboard and mouse. This haptic-driven hackable gamepad features both sharable configurations and a touch screen. In the place of analog sticks are two circular trackpads with dual linear resonant actuators that can produce vibration. With sixteen buttons and a truly unorthodox design, Valve's new controller seeks to ignore any compromises that the controllers of the past have enforced. It's an interesting take on an old idea, but reaction to the design itself is decidedly mixed.
Overall, it's an exciting time to be a Valve fan. In scheduling so many announcements so close to the releases of Sony's PlayStation 4 and Microsoft's Xbox One, the company is clearly positioning itself to be a living room competitor. Will it be though? My thoughts, as of now, are that SteamOS and Steam Machines won't be able to penetrate that market Đ at least, not anytime soon. The problem with Valve's strategy is not one of planning. In fact, offering up a premium platform and so much hardware flexibility is likely the best thing they could have done for PC gamers. However, there is a distinct difference between PC gamers and console gamers. The people who build PCs and regularly indulge in Steam sales will flock to whatever Valve does in the living room (assuming they are not happy with the status quo on their monitors), but how many console gamers have interest in building and customizing their own gaming device? I'd argue not many, otherwise those gamers would already be oriented towards PC gaming. Valve won't dominate the living room until they release a Steam Machine that is as easy to buy and play as a PlayStation 4 or Xbox One.
Source: Valve
In a world that seems to be increasingly oriented towards mobile gaming, it's become apparent that those competing in the space are facing significant challenges. The team behind the upcoming App Developers Conference, taking place November 5-7th alongside GDC next, has released the results of a survey distributed to their attendees. A number of those who will be in attendance are actually mobile game developers, and their comments may turn you off to the idea of participating in the space.
Piracy, in-app purchases, and profitability have become real challenges for developers. According to organizers, 26 percent of surveyed developers reported that their apps had been pirated, and even if a game is free it isn't protected from piracy. To that end, 26 percent also found that their in-app purchases had been obtained without any payment issued. One developer confessed that 1.5 million of their over 8 million downloads had been pirated, mostly in Russia and China. Another developer noted that roughly 90 percent of their in-app purchases were faked on the Android platform. The numbers on profitability were also surprising, with 40 percent of developers claiming that they made no revenue from their latest app and almost half claiming zero profit.
Aside from the problems associated with sales and piracy, app developers appear to be really frustrated with discoverability. The most cited obstacle to success in the ADC survey was exposure. App Stores, especially the Google Play Store, feature too many apps with either a $0.99 price tag or no price tag. It's been made clear that iOS consumers are more likely to spend money, but getting noticed by them doesn't happen unless Apple chooses to feature your product. Device fragmentation has also frustrated the problem, and it doesn't appear that the mobile app landscape will be changing any time soon.
I found this interesting to hear as the mobile market is has so often been touted as the Wild West of modern video game development. Providing you have a vision and some technical knowledge, developing a game and publishing it to the massive smartphone market isn't too challenging. However, I now understand that the mobile market has become over-saturated. I honestly feel bad for all of the video game companies, such as the recently disbanded Six Slant Games, that have restructured their organizational models to better compete in what is clearly an unfriendly environment.
Source: ADC
Microsoft's Albert Panello, senior director of product management and planning for Xbox, has actually warned consumers not to use their Xbox One in a vertical orientation. The issue, according to Panello, is with the slot-based disc drive. The 360's tray meant that it was able to operate on either plane, however, the Xbox One will only be able to handle horizontal orientation without risking the safety of the inserted media.
"We don't support vertical orientation; do it at your own risk," Panello said bluntly to GameSpot. "It wouldn't be a cooling problem; we just didn't design the drive for vertical. Because it's a slot loading drive, we just didn't design it for both." He then went on to justify this decision by stating that many surveyed Xbox 360 owners kept their device in a horizontal orientation anyway.
This is a bit of interesting revelation as its reasoning runs contrary to what we know of slot based drives. To clarify, a slot drive does not need to prohibit vertical orientation in order to work correctly. In fact, the PlayStation 3 and PlayStation 4 have been able to use a slot-based drive while supporting both orientations. This means that Microsoft made a conscious decision to keep the Xbox One's orientation horizontal at all times.
Whether this was due to aesthetic presentation or laziness on Microsoft's part is not important. I guess I just find it irksome that everything from how often the Xbox One has had to be connected to the internet to how the device is oriented has been dictated by Microsoft. If Valve's upcoming Steam Machines are going to be the most flexible gaming devices of the next generation, Microsoft's Xbox One will clearly be the most rigid.
Source: GameSpot
This is a newer section of RPGamer's Currents where we take a hard look at some video game industry rumors and attempt to assess how plausible they are. Nothing in this section has been officially confirmed, but who knows which rumors will float to the surface as fact in the future?
Microsoft Will Be Streaming
I may be in the minority, but one of the cooler PlayStation 4 announcements to me was the integrated Gaikai streaming service. Allowing the streaming of both PlayStation 3 and PlayStation 2 titles, Gaikai could be the ultimate solution to backwards compatibility. Now, rumors are circulating that Microsoft is testing a similar solution for the Xbox One and plans on using Halo 4 to demonstrate the technology. Likelihood? Very likely. This is one feature that the PlayStation 4 always held over Microsoft's head. The Xbox One will need some kind of streaming services if it is going to be competitive against the PlayStation 4 and Steam Machines.
Watch Dogs Looks Best on PS4
Watch Dogs creative director has recently spoken out on the platform comparisons for the upcoming original IP. In comparing the PlayStation 4 version to the Xbox One, he mentioned that the Xbox One hit a few dips from 60fps while the PS4 was pretty smooth. In fact, he maintains that it is the "definitive version." Likelihood? Does it matter? If we're going to be technical — the PlayStation 3 had slightly better specs than the Xbox 360, but that didn't stop almost all multiplatform releases from looking and playing the same way. At the end of the day, I'm betting that the differences between the PlayStation 4 and Xbox One versions of Watch Dogs are minimal.
That's it for this issue of Currents. You'll see another issue again in a couple weeks, but stay tuned to RPGamer for all the latest RPG news, reviews, previews, and interviews.
Your dork from the Great North,
Stalk me on Twitter: @InstaTrent
Show me some cool news stories!