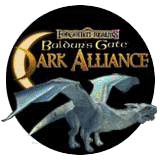 Black Isle has announced that the PS2 installment in its Baldur's Gate franchise has gone gold. Baldur's Gate: Dark Alliance is set to arrive in stores across North America on November 15.
Developed by Stormblind Studios, BG:DA is the inheritor of a rich RPG legacy, with its PC brethren regarded by some as the pinnacle of PC-style RPGs. The PS2 title is set in the Forgotten Realms environs made famous by the preceding outings, but the game ditches the hack-and-slash gameplay elements that gamers have come to know in the franchise. Instead, those taking the plunge will be faced with game mechanics more akin to Diablo than the earlier offerings.
For previous coverage, check out our Baldur's Gate: Dark Alliance page, and look for a full preview early next week ahead of the game's release.