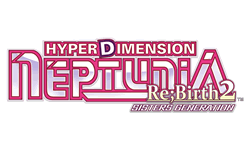 Idea Factory International has announced that Hyperdimension Neptunia Re;Birth2: Sisters Generation on the PlayStation Vita will be making its way to North America and Europe early next year. Even better news is the fact that European RPGamers will be able to get their hands on the game physically this time around, as the recent Hyperdimension Neptunia Re;Birth1 was only offered digitally.
Hyperdimension Neptunia Re;Birth2: Sisters Generation will be offering a new story for fans to enjoy, as well as an improved battle system from Rebirth;1. Players can now have up to four characters participate in combat, and four more to function as support. There will also be several new characters to play as, including the Oracles. There's also a feature called Stella's dungeon, a minigame that lets you send Stella out into Gamindustri's dungeons for exploration to receive new and rare items. Players will also be able to take advantage of the game's Remake System, which will allow players to customize the game to their personal preference.

Idea Factory International has also detailed the story for Rebirth;2, which can be read below: 20XX - Gamindustri faces a dire crisis. Shops are boarded up, creators are overworked and starving, and death looms over all Gamindustrimen. But the CPUs refuse to let this be game over for their world! Gamindustri had severed its ties to the chaotic Lawless Realm long ago, and yet... Ever since the advent of ASIC - the Arfoire Syndicate of International Crime - morality has all but vanished. As much as 80 percent of all students are rumored to worship a being known as Arfoire. Parents, despite knowing it to be a poor deity to worship, have gone ahead and allowed their children to do so. Even the governing bodies of the world have turned a blind eye to it, rather than crush the crisis in its infancy. Well, basically, Gamindustri was pretty messed up, you guys. Ahem. Thus did Gamindustri fall into complete and utter disarray. Those who tire of living in this corrupt world are sent to wander the Gamindustri Graveyard, forever lost.