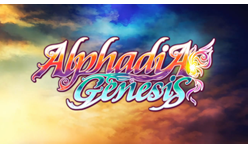 Natsume has revealed more details regarding the cast and story for its upcoming Wii U release of Alphadia Genesis. The release is a port of the title originally released for smartphones and tablets by Kemco and features a brand new and improved localisation.
Alphadia Genesis is set in the year 1092 of the Alphadian calendar, fifteen years after the Energi Wars between the kingdoms of Augustine and Archleign. Fray is a local guild member in Archleign and a skilled swordsman. His sister Aurra researches Energi, a natural resource, and is also an expert on clones, which were used as weapons in the aforementioned wars. Enah is one of these clones, who wields a chakra and is activated by Fray. The two other characters revealed are the demure-appearing Corone and hot-temptered Walter, members of an Augustine investigation team looking into cases of clones murdering their masters.
The game is due to be released digitally in North America through the Nintendo Wii U eShop. The release date is yet to be confirmed, but it is expected to be during Fall 2014.