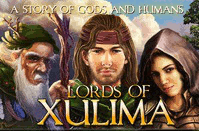 Lords of Xulima, a Kickstarted classic-style PC RPG set in a world where the gods walk the earth, will soon be walking the earth itself. The game will be available as an Early Access title on Steam starting Friday. It is priced at $17, and that price will go up once the full version is available. Backers will be receiving Steam keys sometime this week.
The Early Access version contains approximately half of the final game. Players will take the role of Gaulen the Explorer and his party of player-created friends, who are exploring a mysterious continent that is said to contain the power of the gods. The action takes place in a 2D isometric viewpoint with challenging turn-based combat.
Gamers who want to experience the game in its full retail state should check in this October, when the final version is expected to launch. For now, we can view this trailer, featuring Xulima's peripatetic protagonist.