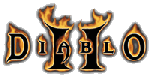 The Infoceptor, a site dedicated to the coverage of Blizzard Games, has uncovered confirming evidence about Blizzard's expansion plans for Diablo II. Infoceptor staff extracted a hidden text file that contained data that may reveal a potential expansion's new classes, skills, items and monsters.
The data uncovered suggests that an expansion will feature two new classes: the Druid and the Assassin. According to the data contained in the text file, the Druid will possess magic skills including elemental and summoning spells. Infoceptor speculates that the Druid would be a cross between a Necromancer and a Sorceress, with additional self-boosting spells. The Assassin will be attack-oriented and may be able to obtain the ability to become invisible.
Blizzard has not announced plans for a Diablo II expansion. Infoceptor's speculation about a potential expansion is based entirely on the data contained in a file that can be extracted from the Diablo II CD itself. RPGamer has placed a call to Blizzard and will bring you an official statement regarding a possible expansion as soon as one is issued.